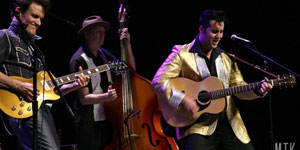 The music of rock 'n' roll legends will come to life in a pair of concerts with Memphis overtones.
There's gonna be a whole lot of shakin' goin' on at the Jabez.
The shakin' begins Friday, February 7 with One Night in Memphis, a high-energy concert that commemorates the evening of December 4, 1956. That night, four of the biggest names in early rock 'n' roll – Elvis Presley, Carl Perkins, Jerry Lee Lewis and Johnny Cash – gathered together for an impromptu jam session at the legendary Sun Studios in Memphis. Music fans can enjoy a rollicking night of rockabilly, country, gospel and pure 1950s rock 'n' roll.
On Friday, February 28, concertgoers can continue to celebrate the life and music of the Man in Black with James Garner's Tribute to Johnny Cash. Garner and his band faithfully recreate Cash's biggest hits such as "Folsom Prison Blues," "I Walk the Line" and "Ring of Fire."
They also incorporate historical accounts and personal anecdotes about the American singer-storyteller into the performance. In a toe-tapping trip down memory lane, they honor Cash's style as well as the boom-chicka-boom sound of his signature backing band, the Tennessee Three.
Tickets are $44.95 for One Night in Memphis and $39.95 for the Tribute to Johnny Cash. Both concerts begin at 7:30 p.m. at Jabez S. Hardin Performing Arts Center. Dinner also will be offered before the shows at an additional cost of $25. Reservations are required. For more information, visit augustaamusements.com or call (706) 726-0366.