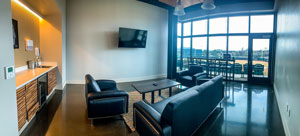 Need a change of scenery? The Augusta GreenJackets recently announced its "Work From Homeplate" program to give individuals the opportunity to change up their work-from-home routine and rent a private luxury suite at SRP Park.
The suites, which rent for $100 a day or $400 a week (Monday-Friday), can accommodate up to four people. Rental includes Wi-Fi, flat screen TV with HDMI access, printer and scanner availability and free parking for one vehicle. General office supplies such as pens, note pads, stapler, tape, paper clips, etc. will be provided as well.
Temperatures will be checked at the entrance, and all guests must wear masks while entering, exiting and moving around the ballpark. Guests can remove masks in their private suite. For more information, visit greenjacketsbaseball.com.