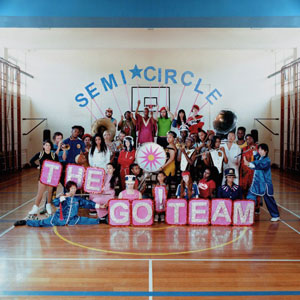 The Go! Team is the electric company of vintage '60s riffs and double Dutch chants rolled into a pep rally of retro urban-garage-cardio beats. A concept that was birthed in Ian Parton's parent's kitchen, The Go! Team creates an infectious groove and bombastic sonic wall of organic emotion and raw exhilaration.
Nearly two decades after the critically acclaimed Thunder, Lightning, Strike, Parton's project dives deep into the Motor City, enlisting the Detroit Youth Choir to serve as the vocal force behind the English band's latest release, Semicircle.
With youthful pop magic, Semicircle boasts an innocent and optimistic revel that carries a common chord throughout each track while creating a nostalgic gymnasium of varsity cheer. Out of the gate, the opener "Mayday" shines the ray of warm lush urban horns and marching band step-dives into a loop of choreographed magic. 
The momentum remains and is highlighted on the field day anthem "Semicircle Song" and roller-skating jam "All the Way Live." As the days grow longer and the season gets warmer, The Go! Team is laced up and ready for some sidewalk sprinkler fun.
– Chris Rucker