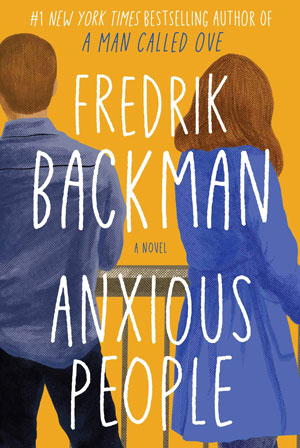 The #1 New York Times bestselling author, Fredrik Backman of A Man Called Ove fame, is at it again with another cast of unforgettable characters in Anxious People. This poignant, charming novel probes a crime that never took place, a would-be bank robber who disappears into thin air and eight extremely anxious strangers who find they have more in common than they ever imagined.
Looking at real estate isn't usually a life-or-death situation, but an apartment open house becomes just that when a failed bank robber bursts in and takes a group of strangers hostage.
The captives include a recently retired couple who relentlessly hunt down fixer-uppers, a wealthy but self-absorbed bank director and a young couple who are about to have their first child.
Add to the mix an 87-year-old woman who has lived long enough not to be afraid of someone waving a gun in her face, a flustered but still-ready-to-make-a-deal real estate agent and a mystery man who has locked himself in the only bathroom, and you've got the worst group of hostages in the world.
As the authorities and the media arrive, these reluctant allies will reveal surprising truths about themselves and set in motion a chain of events so unexpected that even they can hardly explain what happens next.
"[A] witty, lighthearted romp…Backman charms," says Publishers Weekly.
"Comedy, drama, mystery and social study, this novel is undefinable except for the sheer reading pleasure it delivers," says Library Journal.