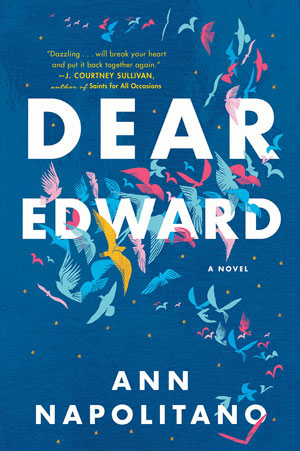 One summer morning, 12-year-old Edward Adler, his beloved older brother, his parents and 183 other passengers board a flight in Newark headed for Los Angeles. Halfway across the country, the plane crashes. Edward is the sole survivor.
Edward's story captures the attention of the nation, but he struggles to find a place in a world without his family. He continues to feel that a part of himself has been left in the sky, forever tied to the plane and all of his fellow passengers.
But then he makes an unexpected discovery — one that will lead him to the answers of some of life's most profound questions: When you've lost everything, how do you find the strength to put one foot in front of the other? How do you learn to feel safe again? How do you find meaning in your life?
Dear Edward is at once a transcendent coming-of-age story, a multidimensional portrait of an unforgettable cast of characters and a breathtaking illustration of all the ways a broken heart learns to love again.
"With its expert pacing and picture-perfect final page, Dear Edward is a wondrous read," says Booklist. "It is a skillful and satisfying examination of not only what it means to survive, but of what it means to truly live."