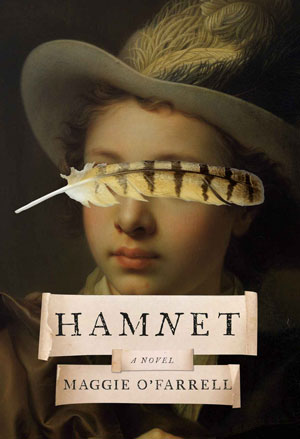 According to Shakespeare scholars, the names Hamnet and Hamlet were interchangeable in Elizabethan England. In the 21st century, novelist Maggie O'Farrell — interested in determining the connection — recreates a fictional account of the short life of Shakespeare's son.
A young Latin tutor — penniless and bullied by a violent father — falls in love with an eccentric young woman. She is a wild creature who walks her family's land with a falcon on her glove and is known for her gifts as a healer. Once settled with her husband in Stratford-upon-Avon, she becomes a fiercely protective mother and a steadfast, centrifugal force in the life of her young husband, whose career on the London stage is taking off when his beloved young son succumbs to sudden fever from the bubonic plague.
"This novel is at once about the transfiguration of life into art — it is O'Farrell's extended speculation on how Hamnet's death might have fueled the creation of one of his father's greatest plays — and at the same time, it is a master class in how she, herself does it," says the New York Times Book Review.
"So gorgeously written that it transports you from our own plague time right into another and makes you glad to be there," says The Boston Globe.