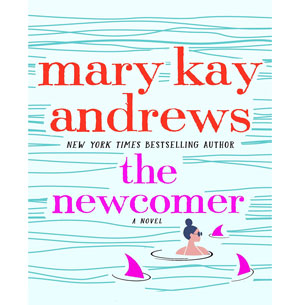 Mary Kay Andrews, New York Times bestselling author and "Queen of the Beach Reads," delivers a delightful summer roller coaster of a ride with The Newcomer.
After Letty Carnahan discovers her sister, Tanya, dead in her New York City townhouse, she knows who did it: Tanya's ex, sleazy real estate entrepreneur Evan Wingfield. Even in the grip of grief and panic she heeds her late sister's warnings: "If anything bad happens to me, it's Evan. Promise me you'll take Maya and run."
Letty grabs her sister's Mercedes and hits the road with her wailing 4-year-old niece, Maya, determined to outrun Evan — but to where? Her sister left behind only one clue: a faded magazine story about a sleepy mom-and-pop motel in a Florida beach town with the improbable name of Treasure Island.
After checking into The Murmuring Surf Motel, Letty tries to heal Maya's heartache and unravel the key to her sister's past, all while dodging the attention of the owner's attractive son, Joe, who just happens to be a local police detective. With danger closing in, it's a race to find the truth and right the wrongs of the past.
The Newcomer is praised by Country Living as a "perfect-for-poolside binge-reading pick," and it was named one of "6 Beach Reads That Feel Like an Escape" by Southern Living.