With an abundance of produces and free-roaming livestock, a local Certified Naturally Grown farm is the cream of the crop.
Imagine spending your days on a farm surrounded by peanuts, poultry, porches, peaches and pears. For many people, the thought sounds like something straight out of their grandparents' or great-grandparents' playbook.
For Laurie and John Ritchie, it's a way of life. The couple bought 14.5 acres of Hephzibah farmland, which they named J and L Farm and Stables, nine years ago. 
"We knew nothing about farming. We had to read and learn a lot and talk to other farmers," says Laurie, a retired high school English teacher whose husband is retired from the U.S. Navy but works at Fort Gordon. "We had always thought it would be great to retire on the water somewhere, but it's a little expensive. We were living outside of Atlanta at the time, but land was expensive. Someone told us to try the Augusta area."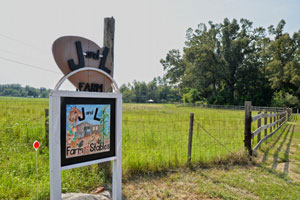 Food for Thought
The Ritchies are only the third owners of the property, and the original owner, Pete Fulcher, lives on a farm next door. "We have tried to use much of the farm as it was," Laurie says.
She says they got interested in farming because of their daughter-in-law, who is particular about the food her children eat.
"John and I were like lots of other people. We didn't realize what was happening to our food supply. We just bought food and didn't think about what was happening to it before we bought it," says Laurie. "It's just really important to me that we wouldn't sell anything that we wouldn't eat ourselves."
The Ritchies have a Certified Naturally Grown farm. CNG farmers don't use any synthetic herbicides, pesticides, fertilizers or genetically modified organisms, and CNG livestock are raised mostly on pasture with space that allows for freedom of movement. CNG's certification approach is based on the participatory guarantee system model that relies on peer reviews in which inspections are typically carried out by other farmers. This model also encourages farmers to share best practices with each other and fosters local networks that strengthen the farming community.
In addition to peaches and pears, J and L Farm has plums, apples, figs, blueberries and strawberries. With grafts, they also grow two types of apples and pears from the same tree.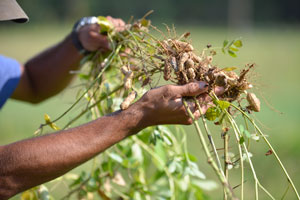 "It's hard to find organic fruit in this area," says Laurie. "It's hard to grow organic because of pests and diseases. One of the things about organic is there are things you can do, but you have to do them more often – every month or two weeks instead of once a season."
Vegetable crops include squash, corn, tomatoes, beets, pole beans, kale, cucumbers, carrots, broccoli, garlic and turnips. "We planted turnips last year because they are very popular and because you can use the turnip and the greens," says Laurie.
In their herb garden, they grow oregano, thyme, basil, lemongrass and rosemary.
"We plant what we like and what we think will do well. We also try to grow things that other people are not growing," Laurie says. "In this climate, you can plant many things twice. Beets, carrots, kale and onions can be planted in the spring and fall."
They also have a pecan tree on the farm, and four years ago, they started growing Tennessee Red peanuts. "Our pride is our peanuts," says Laurie.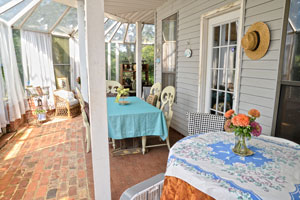 In addition, Laurie created Huddy Buddy's Butterfly Kisses Garden last summer in memory of her son's friend's little boy, Hudson Taylor Sylvestre, who died of a heart ailment at the age of 10 months.
Healing Farm
J and L Farm sells its goods on the Augusta Locally Grown website. From April through October, the farm also offers its products onsite every Saturday from 9 a.m. until noon and at the veggie truck on Broad Street across from the Kroc Center from 4:30 p.m. until 7 p.m. every Tuesday.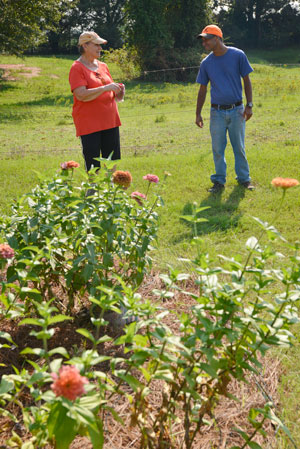 Laurie, whose niece Donna Cote also lives and works on the farm, made one of her best finds at the veggie truck in October 2015. She overheard someone who specializes in finding work for people with slight disabilities say, "I wish I could find an outdoor job for him." Laurie immediately said, "I'll take him."
Charlie Jones has been working at the farm three days a week ever since. His main job is to take care of the chickens, which includes 200 laying hens. He feeds them, makes sure they have clean water and cleans the chicken coops.
"Our chickens are pasture, so they have no limits on where they can go," says Laurie. "They lay eggs for an average of two-and-a-half to three years."
Charlie's favorite task is caring for the chickens. "I learn different things every week," he says.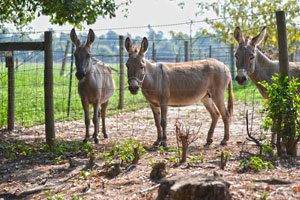 He plants flowers and feeds the horses – Dixie, Lady, Rescue and Oscar. Two of them are rescue horses, and the farm also has three mini Jerusalem donkeys – Jessie Mae and her two daughters, Liza Jane and Cassie Mae. "They're called Jerusalem donkeys because hair on their backs grows in the shape of a cross," says Laurie.
Charlie has taken on additional duties as well. With grant money from Georgia Organics, which promotes sustainable food and local farms, he started a mini farm called "A Healing Farm" on the Ritchie's property last year.
"We want Charlie to be able to teach other people," Laurie says. "Our goal is to have 1,000 square feet of growing space for Charlie to be in charge of a helper. They would sell the food, and the money would go back into seed to make it a self-sustaining movement."
Last fall he planted arugula, spinach, radishes and beets. This spring he will plant cucumbers, yellow squash and sweet peppers.
"His work coaches are amazed by the changes in Charlie and the way his confidence has grown," says Laurie.
Charlie also has a flower garden where he plants and cares for zinnias, which attract bees. John has honeybees on the farm, and last year was the second year they got honey from the hives.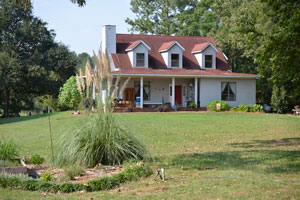 Tea Time
The Ritchies enjoy having visitors at the farm, but they ask people to call first. Visitors have included home school groups, Augusta Locally Grown groups and a class from Helms College. Laurie, also a former caterer, puts those skills – along with a ritual from her childhood – to use as well.
She serves afternoon tea on the back porch of the house any day except Tuesday. Reservations are required. The menu includes a couple of different teas, tea sandwiches, scones, Devonshire cream, sweets and seasonal fruit.
Laurie also has a cottage food industry license so she can sell healthy food such as granola with local honey and organic butter, glutton-free peanut butter cookies and sweet pickles that they make from their cucumbers.
Visitors to the farm quickly gain insight into its growing philosophy from a series of signs along the dirt driveway that say, "Being Organic Means Being Untidy."
"We don't kill things or cut them down just to make things look better," Laurie says. "There's a reason why something is there."
By Morgan Davis