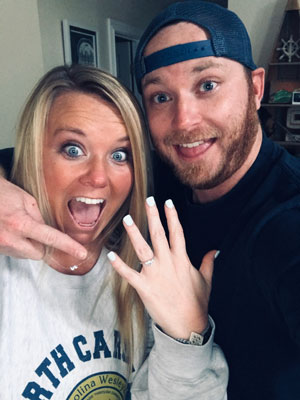 All it took for Kayla and Jake Sasser to elope to Edisto Beach, South Carolina in December 2018 was a dozen years as best friends and a "what if?" or two along the way.
They met in 2006 when Kayla moved from her native West Virginia to Statesboro to pursue her master's degree. She later moved to Millen to supplement her income with a job at BB&T after a bank employee – who is now her mother-in-law – told her about an opening there.
Kayla, who also taught gymnastics, and Jake met at a community talent show where she went to watch one of her students and he went to see his brother play in a band. Afterward, they ran into each other at a gas station.
"We ended up riding around together that night," says Kayla. "What a small town thing to do."
They remained friends, even after she moved back to West Virginia and then to North Carolina. Whether they talked every day for a week or went for a month without talking, they always picked up where they had left off.
"At some point in our friendship, I realized that if we ever dated and got serious, that would be it. And that's why we never dated," says Jake. "I didn't want to commit to anything — I had to grow up."
In February 2017, while living in North Carolina, Kayla emailed Jake and told him how she felt about him. Once she hit "send," she knew they would be together or their friendship would end.
When he received her email, Jake says, "My first thought was, 'I don't know how to deal with this right now.' I knew if I responded, that was going to be that. I wasn't ready for that."
"That," of course, was a lifelong commitment.
After he didn't respond, Kayla thought she had her answer. She eventually heard from Jake, and he said, "You're my best friend, but I'm not good at relationships."
Kayla started dating someone else that summer, and they got engaged. She kept wondering "what if," though, and two months before the wedding she called Jake to tell him she was having doubts.
"She caught me off guard with a phone call one afternoon. And that was that," says Jake. "You can avoid the inevitable for two years before it really starts to nip at your heels."
Taken aback or not, this time he was ready. He told her, "You aren't supposed to marry him because you're supposed to marry m