The American Red Cross does good work year-round, but a popular fundraiser for the organization is coming up soon. The 24th annual Boot Scoot Boogie is scheduled for 6 p.m. Saturday, February 3 at the Columbia County Exhibition Center.
Chaired by Red Cross board members Chad Harpley and Chan O'Dell, the event will feature a barbecue dinner, a concert by country legend Gary Allan with some of his singer/songwriter friends and live and silent auctions. Auction items include a Club Car vehicle, a John Deere riding lawn mower, vacations, sports memorabilia, jewelry and other prizes.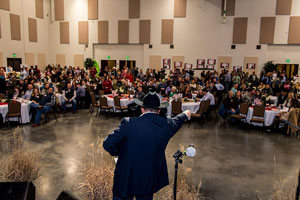 According to Susan Everitt, executive director, about $100,000 was raised for the Augusta chapter of the American Red Cross last year.
"We've always had great support from the community for this event, and with all of the multiple national disasters the Red Cross has responded to this year, the support is critical. Since August, the Red Cross, along with community and government partners, has provided more than 1.3 million overnight stays in emergency shelters. That's more overnight shelter stays than the past five years combined," says Everitt.
Nearly 500 people have attended Boot Scoot Boogie in past years. Proceeds go toward providing relief to those affected by disasters in the community, training efforts and other services.
"Home fires are one of the biggest disaster relief efforts that we support on a regular basis," says Holly Allen, who oversees Georgia Region special events. "We try to alleviate people's pain and suffering and get them back on their feet."
The Red Cross also offers classes including adult and pediatric first aid, CPR and basic life support for healthcare providers. Volunteer opportunities are available in areas such as administration, youth programs, disaster relief and smoke alarm installation efforts. For information or to purchase event tickets, call (706) 724-8481 or visit redcross.org/augusta.