The 16th annual Empty Bowl, a joint fundraiser for Golden Harvest Food Bank and Augusta Jewish Community Center, will provide local families with hours full of fun. This year's event is scheduled for 10:30 a.m. until 2 p.m. Sunday, March 5 at the Legends Club, 2701 Washington Road, Augusta.
"It's always amazing to me how Golden Harvest can leverage every donated dollar into tens of dollars of much needed food. Teaming up with groups like the Jewish Community Center to raise funds makes the process even more effective" says Phil Alexander, Founder & Community Sponsor of Calling Post. 
The fundraiser features an all-you-can-eat, soup kitchen-style buffet of soups, breads and desserts donated by area restaurants, food companies and caterers. Child friendly hot dogs and macaroni and cheese will be available as well.
Each ticket holder can select a handmade ceramic bowl created by a local student or artist to take home as a reminder that sharing in the event helped to ease someone's hunger. Additional bowls can be purchased for $10 each. 
Other activities include a You "Can" Help raffle for a bike from Chain Reaction Bicycles in which a ticket can be "purchased" in exchange for a can of food and a silent auction from 10:30 a.m. until 1:30 p.m. A Kids' Korner will feature Lady Bug the Clown, balloon animals, face painting, singing, dancing and story times.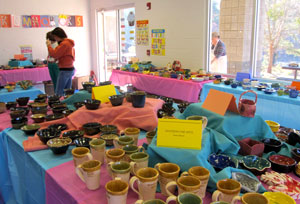 Golden Harvest Food Bank serves the hungry in a 30-county area in eastern Georgia and western South Carolina, and AJCC provides educational, social and cultural programming for local residents of all ages. 
Tickets are $20 in advance or $25 at the door for adults and $5 in advance or $7.50 at the door for children ages 2 to 10. Admission is free for infants and toddlers under age 2. Tickets are available at a number of area establishments including Augusta Jewish Community Center, Cudos2u and That Place Coffee in Columbia County. They also can be purchased by calling (706) 228-3636 or by emailing augustajcc2@hotmail.com. 
For more information, visit emptybowlcsra.org.