A cancer diagnosis for an individual or a loved one can be one of a person's darkest hours. With Light the Night, however, the Leukemia & Lymphoma Society brings hope to those who are battling blood cancers.
This year, the area Light the Night will be held Saturday, October 21 at Evans Towne Center Park. Registration begins at 5 p.m., and the walk begins at 7:30 p.m. The event will conclude with a fireworks display about 8:30 p.m.
"It will be more of an event now than an actual walk," says Marci Miller, Light the Night campaign manager for the local Leukemia & Lymphoma Society chapter. "We will have a variety of family friendly activities. During part of the ceremony, we will have a survivors' circle where survivors come to a certain spot and a light will shine through the middle of the group to make it more of an experience."
Lanterns of different colors will be distributed to participants as well. Survivors will receive white lanterns; supporters will carry red lanterns; those who have lost someone to cancer will have gold lanterns. 
"The different colors of lanterns lit up really provide a dramatic perspective on just how widespread cancer is as well as how it can be overcome as a result of the great research that organizations like the Leukemia & Lymphoma Society make possible," says Phil Alexander, CallingPost founder.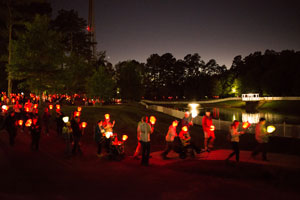 Currently, 75 teams have registered for the event, and the fundraising goal is $280,000. Proceeds from the event go to the Leukemia & Lymphoma Society.
"We are a national organization with a local presence," Miller says. "Our chapter provides co-pay assistance for local residents and education for people when they initially are diagnosed."
The mission of LLS is to cure leukemia, lymphoma, Hodgkin's disease and myeloma and to improve quality of life for patients and their families. Because there are no means of prevention or early screening for most blood cancers, the LLS research agenda focuses on finding cures.
For more information, visit lightthenight.org.