There's a good reason the Master's Table Soup Kitchen, a Golden Harvest Food Bank initiative, operates each day of the year in downtown Augusta. 
"People are hungry every day," says Ann Visintainer, Golden Harvest's marketing manager. "There are not a lot of grocery stores or food resources in the downtown area. There is also a high concentration of people downtown who lack transportation to get food."
The Master's Table serves a hot lunch to 200 – 250 people every day at its Fenwick Street location. On holidays such as Thanksgiving, Christmas and New Year's Day, the soup kitchen serves about 300 people.
"For Christmas dinner we'll have ham or turkey and traditional sides," says Ann. "Our volunteers decorate the tables, and we'll put up a Christmas tree."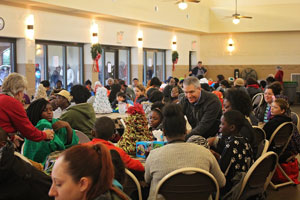 In other holiday plans at the soup kitchen, Concerned Women Inc. will give away clothing, shoes, books and toys Saturday, December 9; volunteers will give away clothing and toys Monday, December 18; and Project Inspire will give away bags filled with hygiene products Saturday, December 23. 
The majority of Master's Table guests are not homeless. The soup kitchen also feeds families and elderly people with small incomes. During the holidays when children are not in school, families can face additional hardships to put food on the table.
The Master's Table also grows fresh vegetables in a garden, and this year the organization has partnered with Augusta Locally Grown to create a new Healthy Plate Program. 
Numerous volunteer groups such as 15-20 churches as well as businesses, the military and local community organizations help the Master's Table each month.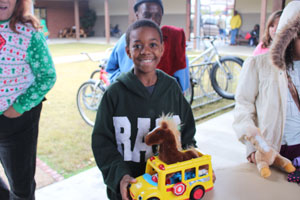 "Volunteering at the Masters Table Soup Kitchen is a rewarding experience to the receiver and the giver. Looking deeply eye to eye, heart to heart, removes pretenses and reveals that we are all equal and loved in God's eyes," says CallingPost founder Phil Alexander, who has volunteered at the soup kitchen numerous times.
People also can support the program by making donations online at goldenharvest.org. Each $1 that is donated provides $9 worth of food to feed the hungry. After all, as Ann says, "Christmas doesn't end with Christmas."