A cancer diagnosis is frightening for anyone, but people who battle the disease – and their loved ones – don't have to do it alone. They can find plenty of support at Relay for Life, the American Cancer Society's signature fundraiser, from 11 a.m. until 10 p.m. Saturday, April 29 at Evans Towne Center Park.
"There is virtually no family in the world that hasn't been touched by cancer," says Gregory Tsikerdanos, the Relay for Life community manager. "The relay is a culmination of a yearlong fundraising effort. While it is an American Cancer Society event, it truly is a community event as well."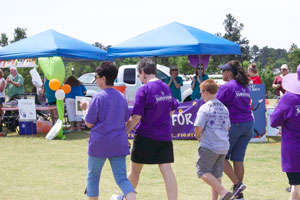 This year's Star Wars-based theme is "May the Cure Be with You," and about 48 teams are expected to participate in the event. The fundraising goal is $175,005 – an amount that covers costs for patients that need transportation to and from treatments. 
The event will include opening and closing ceremonies, a survivors' lap, a caregivers' lap and laps throughout the event by team members to represent the ongoing battle against cancer. Teams will set up camps and continue fundraising efforts by collecting donations for food, goods, games and activities. A luminaria ceremony, which gives people a chance to grieve but also offers hope and comfort, will begin at sunset. Each luminaria bag represents a loved one lost to cancer, and the ceremony also honors survivors and supports those affected by the disease.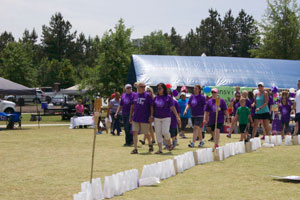 "Our goal is to raise awareness about cancer as well as about research and development, treatments, cures and services for those with cancer and their caregivers," says Tsikerdanos. "We hope to save lives and lead the fight for a world without cancer." 
For more information, visit relay.acsevents.org.