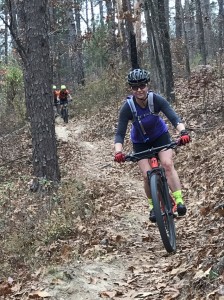 If you enjoy many area trails on foot or on two wheels, then thank a member of SORBA-CSRA. Founded in 1997 by a group of civic-minded mountain bikers, SORBA-CSRA, the local chapter of the Southern Off-Road Bicycle Association, promotes sustainable trail preservation and development, riding and fellowship for local mountain bikers.
The nonprofit organization, affiliated with the International Mountain Bike Association, also works with local land managers such as the U.S. Forest Service and the U.S. Army Corps of Engineers. 
SORBA-CSRA has about 150 members, and the volunteers help to maintain about 150 miles of multi-use trails in Georgia and South Carolina. The trails include a 3-mile track between the Savannah River and the Augusta Canal towpath as well as Bartram, Keg Creek and Mistletoe State Park trails in Georgia.
In South Carolina, they help maintain trails at Baker Creek and Hickory Knob state parks, Boyd Pond, Turkey and Wine creeks, Lick Fork Lake Recreational Area and Modoc as well as FATS (Fork Area Trail System) and Long Cane Horse Trails. Mountain bikers, walkers, hikers and runners use these trails.
"We support and work with the land managers to maintain the trails," says Evans resident David Funk, the SORBA-CSRA president. "We have four large events each year, and we typically have 20 to 30 volunteers for a large work party. These are four- to six-hour events. We also have smaller events as needed."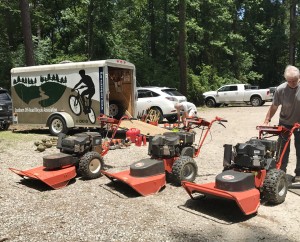 Along with advocacy and hands-on volunteer work, SORBA-CSRA raises funds to support repair and improvement projects. In addition, Funk says, "Most months we have an Explore the Trail Ride for users that aren't familiar with the outlying trails."
SORBA-CSRA volunteers average 1,200-1,300 hours of trail work and 400 hours of administrative work annually. For more information, visit sorbacsra.org or facebook.com/SorbaCsra/.