A Martinez resident recalls his gridiron glory days, Hollywood-style.
To hear Columbia County resident Donnie Hixon tell it, the best days of his life were those spent at the Georgia State Prison at Reidsville in the fall of 1973. It is also where Hixon received numerous punishing blows to his body over the course of five weeks.
After one such barrage early after his arrival in which he was nearly knocked out, Hixon recalls thinking to himself, "What the hell am I doing here?"
However, his time spent inside the walls of the maximum security prison, a massive, white structure situated about 110 miles south of Augusta, was of his own volition. He was part of the cast of The Longest Yard, the box office sensation that starred budding movie icon Burt Reynolds.
And not just in any role, mind you. Hixon, a former semi-pro quarterback was selected as Reynolds' stand-in double for the film, a role that the Augusta native says he was honored to play.
"Let's make this clear," says Hixon, "he didn't need me or anyone else to stand in for him. Had they let him, he would have been two times better — he was that good of an athlete. Being his stand-in was an honor, and like my time spent in the Marines, it would turn out to be another life-changing experience for me." 
Like a Dream
Reynolds, who died in September at age 82, played college football at Florida State, and the chance to return to the gridiron as a quarterback in a major motion picture was a dream come true. Hixon had been a standout football player in the Marines and afterwards as quarterback with the Augusta Eagles semi-pro team. As luck would have it, a select number of Hixon's teammates also were chosen to take part in the film.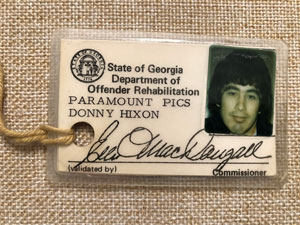 After a prison riot in Oklahoma at the movie's original prospective location, the Reidsville facility was hurriedly selected as a replacement.
As Reynolds' stand-in, Hixon took the physically punishing shots from a cast of former NFL greats, including fearsome Green Bay Packers Hall of Fame linebacker Ray Nitschke.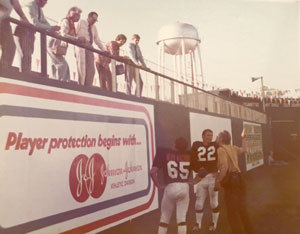 Reynolds and Hixon both donned number 22 jerseys in the film, but after calling the signals at quarterback, the actor went back to the sidelines and watched from an easy chair as the other number 22 took the ensuing blows. Both were in great shape, and looked enough alike that with helmets on and slick film editing, it was nearly impossible to differentiate between the two onscreen. Defensive players didn't care which number 22 they tackled — they just wanted a shot at whichever pretty boy was toting the football. 
Hixon admits to not getting much sleep the night before heading off to the prison, and he was nervous on his drive to Reidsville. "Working with Burt Reynolds?… you've got be kidding." It felt like a dream.
"Prior to reporting to Reidsville Prison for filming," Hixon recalls, "I was told the movie with Burt was going to be a football game played inside the prison between inmates and guards. When I first heard this I thought to myself, 'That's going to be a hell of a game.' At first, this sounded very dangerous to me — what if a riot breaks out like the one at the prison in Oklahoma? Maybe that's why I got selected, because others turned my role down. Up until the time I reported to Reidsville, I thought the movie people were taking a hell of a chance — filming a football game inside the walls of a maximum security prison… would have to be very risky.… There were a lot more prisoners there than us."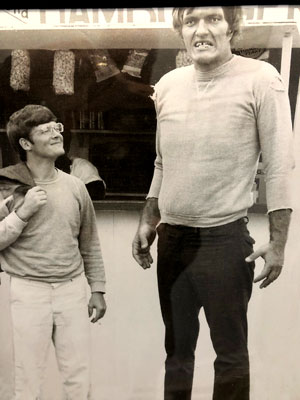 Protection for the star-studded cast of actors and former professional football stars that converged on Reidsville was job one for the Georgia Department of Corrections. Still, Hixon's mind was set. 
"After weighing all this, I admit I did have some concerns, but never any second thoughts about taking part in the film. After all, 'I can't turn down a once in a lifetime opportunity like this, one that doesn't come along every day. I've got to go for it, it can't be that unsafe,' I kept telling myself. As it turned out, the only person I would need to fear was Green Bay Packer legend, Ray Nitschke, and not the prisoners."
After all, it was Nitschke who delivered the most punishing blows. 
A Nostalgic Return
In February Hixon returned to Reidsville for the first time in nearly half a century (this writer accompanied him to document the visit), and fresh memories flooded his mind. He recounted his first day at the prison in 1973.
"Outside I was greeted by a guard and escorted through large steel doors at the main entrance. I had an insecure feeling once those doors closed shut behind me. That's when realization set in. Here I was, inside a maximum security prison around some of the world's most dangerous criminals. I felt trapped. I was taken to a processing office where I produced identification, was given instructions and had my picture taken for the Paramount Pictures ID card. The identification card was secured on a string and had to be worn around my neck upon entry or exit of the prison. I still have that ID card today."
It was Hixon's Paramount Pictures ID card and a scrapbook full of rare photos from the production that played a large part in getting us inside the prison. One look at Hixon's old ID and warden Marty Allen knew this was something he hadn't encountered before.
Sure, he had seen the pictures on the fifth floor prison walls that documented the event, but never had anyone shown up looking to get inside the prison to re-live those days. The warden quipped that Hixon's 45-year-old ID card came without an expiration date, then made a few phone calls and warmly welcomed Reynolds' stunt-double back to Reidsville for a tour.
High atop the prison, one floor up from death-row, rests a small room that houses the now obsolete electric chair, one that was still in use when The Longest Yard was filmed. A barred window not far from the chair overlooks the one-time field put in place for the production. The movie's original script and countless pictures from those days line the walls in that same room.
Recipe for Success 
The actual recipe that went into making a motion picture at Reidsville went something like this: Carefully select a dozen or so choice Hollywood stars, add a dozen seasoned former NFL standouts and make room for Hixon, 14 of his Eagles teammates and three of their coaches. Stir slowly, sprinkle with inmates (who auditioned for and won roles in the film), and top things off with a Hollywood production crew. Place in the oven and bake for five weeks at south Georgia outdoor temperatures. Contain the mixture within a perimeter of razor sharp wire – and be sure not to let it boil over. Remove and serve hot to movie-goers worldwide, popcorn optional.
The finished product — an irreverent and not politically correct low-budget production — was a smash hit with moviegoers, grossing $43 million. With similar box office numbers in back-to-back movies, (Deliverance, 1972 and The Longest Yard, 1974), Reynolds cemented his name as a bona fide leading man.
Hixon's life also changed dramatically as his persona was suddenly and forevermore connected to Reynolds. "I never met anybody like that before, with that notoriety… It kind of changed my life. I took on a new identity," he says. "Today I went to Walmart, a guy came up to me and introduced me to his wife and said, 'He's the one who did The Longest Yard.' I get it all the time. It never stops." 
Hixon kept in touch with Reynolds through the years and even paid his acting acquaintance a visit in Florida several years ago. While he was saddened to hear of Reynolds' passing, Hixon was not completely caught off guard. "I'm sorry that he died, but he had been in bad shape for years and years and may be better off," he says.
But Hixon still has his memories of Reynolds and the fall of 1973 at the Reidsville prison— the time of his life.
By Stan Byrdy
———
In collaboration with author Stan Byrdy, Hixon's stories from The Longest Yard are recounted in the upcoming book, Behind the Scenes with Burt Reynolds at Reidsville State Prison. The book, due for release in December, includes never-before-seen photographs of Reynolds, Hixon, Hollywood legends and former NFL standouts in the making of the film.