A local nurse is returning to war-torn Ukraine to care for pediatric cardiac patients.
For Sara Elizabeth Curry, a registered nurse at Augusta University Health, her vacation this month is not going according to plan. That's fine with her, though.
Instead of following her original itinerary of visiting Grand Cayman and catching a few NASCAR races in Bristol, Tennessee, she's returning to L'viv, Ukraine for almost two weeks in September. For the second time in three months, she is traveling there with the Memphis, Tennessee-based Novick Cardiac Alliance, which provides care to children with congenital or acquired heart disease in low- and middle-income countries.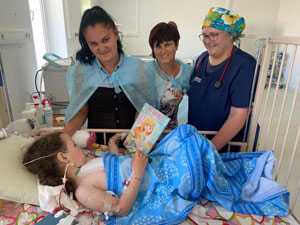 Giving People
Curry also was part of a 16-member Alliance team that went to L'viv in June to treat pediatric cardiac patients. The group included two filmmakers who are shooting a documentary about the nonprofit organization.
She originally visited Ukraine in 2004 when she and a friend took supplies to orphanages and hospitals, and she had been looking for a way to go back after Russia invaded the country in February.
"The people there were so nice and so giving. No matter how little they had, they always wanted to give you something," she says. "I just really felt like I wanted to do something to help."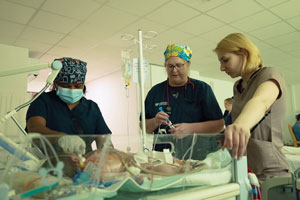 Although Curry was one of only six nurses chosen for the trip out of 600 applicants, she says, "I was worried about whether I was going to be able to help."
However, her 30-plus years of experience at Children's Hospital of Georgia working in transports, primarily neonatal and pediatric with experience in NICU and ECMO (Extracorporeal Membrane Oxygenation), proved to be invaluable.
In June, when team members typically worked 20-hour shifts, Curry immediately was drawn to a newborn boy who was on ECMO after undergoing heart surgery the week before they arrived. The ECMO machine does the job of the heart and lungs, allowing them to rest, for patients with life-threatening illness or injury to these organs.
Dr. William Novick, the CEO and medical director of the Alliance who led the trip to Ukraine, was impressed by her willingness to plunge into a difficult situation.
"The baby had a complicated defect, and we couldn't get him off the bypass machine," he says. "Liz's attachment to that child, and her efforts to drag him off death's doorstep, struck me about her."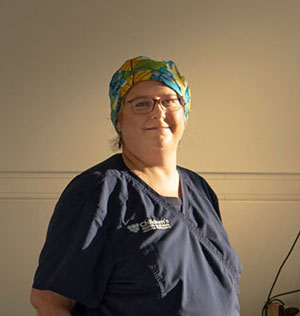 Unfortunately, however, the baby boy was ravaged by infection, and, Novick says, "The child died despite our team's best efforts."
Clearly, though, the experience has stayed with Curry, and she already has plans for the return trip.
"When we go back, I want to focus on some things they can do to prevent infections," she says. "The Ukrainian staff was very professional and very eager to learn."
As part of its mission, the Alliance also teaches healthcare providers in the regions they visit to operate on and care for pediatric cardiac patients independently.
'Fearless and Intrepid'
Novick, who has made more than 500 trips to about 35 countries to provide children with medical care, was the only Alliance staff member to travel to Ukraine in June. However, he had nothing but praise for the all-volunteer team that consisted of medical personnel from the United States, United Kingdom, Canada and Italy.
"This was one of the most cohesive teams that has traveled with me in years," says Novick. "They worked like they had been working together forever."
He says all of the applicants for the missions like to travel and want to help. However, he adds, the Alliance looks for volunteers who have that extra quality that gives them an edge.
"What kind of intestinal fortitude do they have? We don't exactly go to vacation spots," Novick says. "We look for people who are fearless and intrepid, but not crazy. They need to have a high level of situational awareness."
By most outward appearances, the circumstances in L'viv in June seemed benign. After flying into Krakow, Poland, the team took a chartered bus through the Ukrainian countryside to L'viv. There was no fighting between Russian and Ukrainian forces in the city, and Curry never feared for her safety during the trip.
"We saw some military trucks and sandbags, but you really wouldn't know anything was going on if it wasn't for the air raid sirens," she says.
The only other indications that the country is at war were monuments, statues and church windows that had been draped or boarded up. The city also was under an 11 p.m. – 5 a.m. curfew.
At the hospital, the medical team operated on five pediatric patients for various congenital heart defects and cared for two additional children. All of the patients, except for the child they lost, did well. Curry says the most challenging part of the experience was working with expired medications and outdated equipment, which had most of its prompts in German (a language that none of the team members spoke).
"I just love taking care of the babies," she says. "I love seeing them be able to go home."
While Curry says their work might not mean much to Ukraine as a whole, their care meant a lot to the pediatric patients and their families. One family brought the medical team pastries every day, but the father, who knew that Curry liked soft drinks, brought her a special treat – two Ukrainian sodas.
News of their endeavors extended beyond the hospital walls as well. When team members were eating dinner at a restaurant, another Ukrainian man told them how much he appreciated their efforts. "He put his hands together and said, 'Thank you so much for what you're doing for our children,'" Curry says.
By Leigh Howard