Repairs and renovations to a Clarks Hill Lake property will help the Charlie Norwood VA Medical Center provide therapeutic and recreational opportunities to veterans.
Programs to help veterans heal from physical and emotional wounds of battle are vital to their continued health and well-being. However, the surrounding environment can be as instrumental to their rehabilitation as the therapy itself.
Since 1995 the Charlie Norwood VA Medical Center has leased a tranquil wooded property on Clarks Hill Lake in Modoc, South Carolina to provide therapeutic and recreational opportunities to veterans. However, the 32-acre campground and its facilities suffered significant damages in the ice storm of 2014. At the time, funding was unavailable for repairs and renovations.
Under the leadership of Robin Jackson, executive director of CNVAMC, and Bob Frasier, chief of voluntary service, however, the campground is becoming fully operational again.
"The goal is to make it a seamless part of care and an extension of the medical center," says Jackson. "Community support is priceless, and that's what really makes a difference."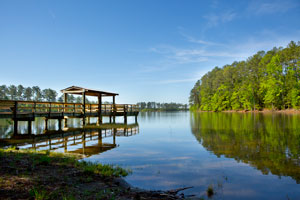 Listening to the Voice of Veterans
In the past couple of years, about 40 volunteers have spent 100 or so hours restoring the property with repairs, materials and man hours valued at about $25,000. They have replaced all of the decking on the dock, replaced the roofs on the dining hall and the restroom, and built trails. Volunteers have included groups from Greenbrier High School, Wesley United Methodist Church and the Masonic Service Association.
The VA also has a partnership with Project Healing Waters, which is dedicated to the physical and emotional rehabilitation of disabled active military personnel and disabled veterans through fly fishing and associated activities including education and outings.
"We're looking forward to expanding our community partnerships with other organizations," says Frasier. "This is a great military community. People want to help, but people outside the VA don't know what we do."
The VA serves about 70 percent of the 80,000 veterans in the area, and now, Jackson says, "The VA has a new focus on modernization and whole health."
As a key component of the Department of Veterans Affairs 2018-2024 Strategic Plan, the VA is shifting from a focus on episodic care to an emphasis on more continuous engagement with veterans throughout their lives.
This approach is important for veterans with complex conditions such as chronic pain and the invisible wounds of war, and the restored Clarks Hill Lake property will play a major role in the whole health and wellness approach to the care of local veterans.
"We listen to the voice of our veterans. They want that whole health experience," says Jackson. "Whole health is more than medicine. It's connecting with the environment and getting the whole wellness experience. We want to deliver the care that veterans want, and this is what they've been asking for."

Heroes Taking Care of Heroes
At the campground, veterans can participate in water-related activities such as fishing, canoeing and kayaking. The restoration entails more than returning the property to its pre-ice storm condition, however.
With the improvements to the campground, the VA also will be able to offer programs such as music therapy wellness retreats, yoga, tai chi, outdoor creative arts, nature walks, therapeutic gardening and landscaping, adaptive fishing, cookouts and camping.
These opportunities will enable veterans and their families to regain physical skills and confidence while interacting with nature. Benefits of these activities include:
Increased physical activity;
Improved overall mood and quality of life;
Decreased depression, anxiety and stress symptoms;
Reconnection with positive emotions;
A renewed sense of awe and appreciation for nature;
New, adaptive approaches to old skills and increased capabilities to enjoy recreational activities as independently as possible;
Stress management by connecting with the sights and sounds found only in the outdoors;
Alleviation of fear, anger, isolation, loneliness and despair;
Strengthened interpersonal skills by joining in activities that nurture social relationships.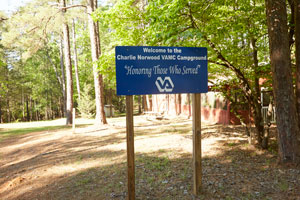 While the property is available to veterans who receive care at local VA facilities, future plans include expanding its use to staff members to promote their health and well-being as well.
"It takes heroes to take care of heroes, so we're going to open it up to our employees," says Frasier.
The VA also will have a whole health coordinator at the facility, and outings will be scheduled so that staff members will be onsite when veterans come to the facility.
"This is going to be a great addition to the services we offer," Jackson says. "Just looking at that view is therapeutic in itself."
There are still some campground projects left to do. If you would like to volunteer to help, contact Frasier at (706) 993-5174.
People also can make monetary contributions to improve the campground. Checks should be made payable to VA Medical Center and mailed to Charlie Norwood VA Medical Center, Attn: Voluntary Service (119U), 1 Freedom Way, Augusta, GA 30904. Write "Modoc Campground" in the memo section of the check.
"Donors should know that 100 percent – no overhead – of every contribution goes directly to benefit veterans and their families," Frasier says.
By Sarah James