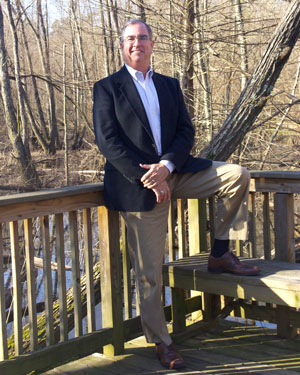 Executive Vice-President, Security Federal Bank
Number of years in position: 9
Family: Daughters Lisa Land and Kelley Strickland, son Ricky Crawford and four grandchildren
Why I'm Passionate About What I Do: Security Federal Bank's tag line "Helping People, Changing Lives" is the way we do business. My position gives me the opportunity to work with our employees to deliver our products and services in a professional manner. To have a positive impact on the success of our employees and the financial well-being of our customers is very gratifying. 
Community Groups and Charities I Love to Support: I have been fortunate to be involved in several community groups and organizations. Currently, I am chairman of the Columbia County Soil & Water Conservation District, a member of the Columbia County Recreation Department Advisory Board and vice chairman of the Columbia County Community Connections Board.  I was also past chairman of the Columbia County Chamber of Commerce and the Convention and Visitors Bureau.
I have always tried to serve on boards that have an opportunity to improve the quality of life in Columbia County, whether it's conservation education, protecting our natural resources or helping areas like business, tourism or recreation grow. Each has a positive impact on this community. 
Biggest Career or Life Obstacle I've Overcome and How: My wife of 34 years was diagnosed with cancer May 5, 1989 and was never cancer free until she went to a better place September 16, 2014. Being a caregiver throughout those years was a blessing in disguise. I don't consider it an obstacle; I was given the opportunity to share her faith and strength, which helped make me a better person. I was lucky enough to have the constant support of family, friends and my employer, and for that I am very grateful.
Accomplishment I'm Most Proud Of: My three children. I enjoy watching each of them grow, raise a family and be successful. They are all still here in the area, and we have a very close relationship. 
Favorite Way to Spend Saturday Afternoon: Doing yard work. I enjoy working on different landscaping ideas for the different seasons and maintaining the existing yard. 
Favorite TV Show: "The Big Bang Theory." It has pretty good delivery and timing, is funny and easy to follow, and the girl is kind of cute.
Favorite Movie: Armageddon. Any movie that involves a few rednecks going up in space, landing on a meteor and blowing it up to save the world is entertaining.
Favorite Sports Team: Atlanta Falcons — and I'm not just on the bandwagon. I have been going to Falcons games since the '80s.
Favorite Comfort Food: I don't really have a favorite comfort food. I usually eat for nourishment not enjoyment; but a good glass of red wine and a steak sound good right now.
Favorite App: Facebook. Is there any other venue where you are able to know what your neighbor is doing or had for lunch and also know the same thing about someone on the other side of the country? 
Last Book Read: The last book I read was Starting at The Top: Learning the Nuances of Executive Leadership by Pat Blanchard. Pat and I are cousins, and I have had the pleasure of watching him evolve into an outstanding leader in the Columbia County/Augusta community. The book is about his relationship with certain mentors in the area and their impact on his professional career. 
Dream Vacation: Dream vacations are not something I think about. However, any place with sun, sand and saltwater will do.
Something That Has changed My Life:  My relationship and marriage to Cindy drastically changed my life. During her illness I learned how to set priorities. Things that seemed important usually aren't. 
Best Thing I Ever Learned: Treat people fairly and with respect. 
Favorite Hobbies: I don't have any hobbies unless you consider my yard work skills. It is very comforting to me to be outside and be a small part of nature.
Secret Aspiration:  I have used this comment for a long time: Making the world a better place, one person at a time. Some people have told me that sounds arrogant, but helping someone can be contagious. 
Reality Show I Would Totally Win: I don't watch reality TV, so anything that involves no talent or skills would be my choice.
Something People Would Be Surprised to Know About Me: My children will probably disagree, but I am a great cook. I don't have any recipes to share; you will have to take my word for it.