With a sudden-death playoff victory in the Augusta National Women's Amateur, 17-year-old Tsubasa Kajitani of Japan kicked off a memorable week in golf for the island nation.
At the time, the second annual Augusta National Women's Amateur seemed to offer little more than an unexpected ending to the 54-hole tournament. Starting the day two shots behind the lead, 17-year-old Tsubasa Kajitani of Japan ultimately prevailed over American Emilia Migliaccio, a 21-year-old Wake Forest University senior, on the first hole of a sudden-death playoff.
Little did anyone know Kajitani's victory was a harbinger of things to come the following weekend.
With her even-par 72 in the final round, Kajitani became the first player from Japan to win at Augusta National Golf Club. Eight days later, however, her countryman, Hideki Matsuyama, backed up her performance by winning the Masters Tournament.
"I can't really imagine [the reception I will receive] when I'm back to Japan," Kajitani said. "But hopefully everybody is happy and will enjoy, and I'm looking forward to going back to Japan."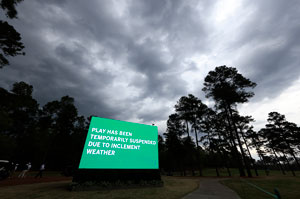 'My Heart Was Racing'
The first two days of the tournament, which had a field of 82 international players, were played at Champions Retreat Golf Club in Evans. Alexa Melton of the United States hit the opening shot to begin the tournament. The University of Southern California sophomore had to withdraw from the 2019 Women's Amateur a week before the event because of a wrist injury.
"I have never been more nervous in my life," said Melton, who shot 76. "My heart was racing, but I couldn't stop smiling."
Due to inclement weather, the first round was suspended in the late afternoon with 29 players still left on the golf course. American Katherine Smith, the leader at 4-under-par when play was halted, had completed only 11 holes. She held a three-stroke lead over five competitors on a day when low scores were scarce.
With a bogey on No. 3 and a birdie on No. 9, Kajitani shot even par through 13 holes. She was tied for seventh place with seven other players including Migliaccio, who had six holes to play.
Play resumed the next morning for the players who still had to complete their first round, and the second round began simultaneously on the first tee as scheduled.
At the end of the first round, Karen Fredgaard of Denmark and Sweden's Linn Grant were tied atop the leaderboard at 2-under-par. Finishing bogey-birdie-bogey on the final three holes, Kajitani was tied for 10th place with 10 other players, including Migliaccio, at 1-over-par.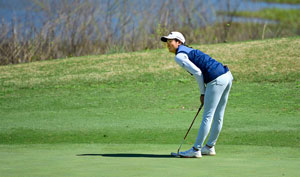 'Hard Golf'
In the second round, players had to contend with chilly temperatures and windy conditions. At the end of the day, Rose Zhang, 17, of Irvine, California, and Ingrid Lindblad of Sweden, a 20-year-old Louisiana State University sophomore, were tied for first place at 1-under-par. Zhang, the top-ranked player in the Women's World Amateur Golf Ranking, and the fourth-ranked Lindblad had entered the tournament as top contenders for the title.
Even though Zhang had several makeable putts that did not drop, she appeared poised to build on her lead after birdies on the first and eighth holes. Hampered by the wind, however, she bogeyed the ninth, 14th and 18th holes – all par-5s – instead of having birdie attempts. She shot even-par 72 for the round.
Lindblad said she hit all her bad shots on the ninth hole, which she double-bogeyed with a 7. At that point, she altered her game plan to fire at as many pins as possible on the remaining nine holes.
On Nos. 10 and 12, she lasered her approach shots to seven feet and four feet, respectively, to birdie both holes. She made long putts of 25 feet on the 13th hole and 18 feet on the 16th hole to card two more birdies. After hitting her second-shot approach onto the green at the par-5 18th, she two-putted for birdie from more than 40 feet to complete her round with a 70.
Shooting even-par 72 with birdies on Nos. 7, 13 and 14 and bogeys on Nos. 2, 4 and 16, Kajitani finished in a three-way tie for fifth place at 1-over-par.
"Overall, it was a bit windy for the last two days, and also the pin position was quite difficult. But I got some lucky birdies, so I really enjoyed it for the tournament," said Kajitani. "I was really up and down and felt impatient, so that was hard golf today."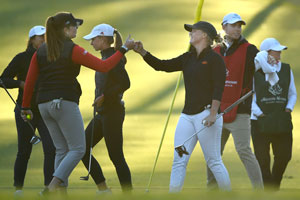 While she planned to make the most of her experience at Augusta National, she had a game plan for the final round.
"I'm looking forward to the golf style and patience, and when I get the chance, I'd like to get more birdies and would like to enjoy the tournament," Kajitani said.
The day brought added drama as the field had to be trimmed to 30 players for the final round, and five players competed in a playoff on the par-4 10th hole to claim the last available spot.
Yu-Sang Hou of Taiwan, Sweden's Maja Stark and Americans Amari Avery, Lauren Hartlage and Katherine Smith teed off in a group as the sun set in the distance.
All five players hit strong drives, and four of them hit approach shots onto the green. However, Stark was the only one to birdie the hole when she sank an 18-foot putt.
After shooting 78 the first day, Stark, a 21-year-old sophomore at Oklahoma State, knew it would be difficult to earn a chance to play at Augusta National. Nevertheless, she pushed through the second round in tough conditions to shoot a 1-over 73 and sneak into the playoff.
Although she only made three birdies in the first 36 holes, her timing was impeccable. She sank a 12-footer on the 36th and final hole of regulation for birdie to make the playoff, before making birdie on the first extra hole to advance to Saturday.
"I don't think I ever calmed myself down," Stark said. "I think I enjoyed the adrenaline. I think I just tried to embrace it. It's an honor and a privilege to get to feel that way sometimes. I just tried to soak it up and behave like I normally do."
To add to the pressure, Stark revealed that she had a big test in her developmental psychology class that was starting in 45 minutes. She hoped to get a pass, though, because of the extenuating circumstances.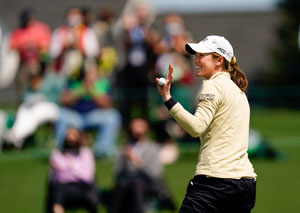 Navigating the Course
The entire Women's Amateur field played a practice round at Augusta National the day after the first 36 holes were complete, and the final round began the next day with a one-hour frost delay.
While her competitors were vying for position, Kajitani, ranked No. 26 in the WAGR, quietly navigated the golf course. After an early bogey on the par-3 fourth hole, Kajitani bounced back with birdies on Nos. 8, 14 and 15.
She double-bogeyed the par-4 17th hole, but her caddie, Chad Lamsback, told her to shake it off and focus for only one more hole. She parred No. 18 to tie Migliaccio with the clubhouse lead, then watched the final three groups finish.
Zhang, who played the first 12 holes in even par with a birdie and a bogey, ran into trouble on the par-5 13th hole when she had two penalty strokes that led to a triple-bogey 8.
Her drive went left, and even though she saw where the ball dropped, no one could locate it. She went back to the tee and hit a second drive that landed in the fairway 235 yards from the pin. Her attempt to go for the green came up short, and unable to get a club on the ball where it landed, Zhang took another drop. However, she wasn't able to get up and down.
On the 14th hole, Zhang hit her approach shot to three feet and birdied the par 4 to vault back into a share of the lead with Migliaccio, Kajitani and Fredgaard.
The top-ranked amateur needed to par the final four holes to get into the playoff. She bogeyed the par-4 17th hole, but she still had a chance to birdie No. 18 after her approach shot landed 12 feet from the hole. However, Zhang two-putted to close the day with a 3-over-par 75 and finish a stroke behind the leaders.
"Sometimes you can't really be too hard on yourself, especially when you are on the greatest
stage of amateur golf," Zhang said. "This is Augusta National. I think it's our responsibility to just be excited and happy to be on this golf course and to be able to be in contention. I don't really want to take any bad memories away from here. I don't think that's what anyone wants."
The 15th-ranked Migliaccio, who shot 2-under 70, had finished a full hour before the players in the last group completed their rounds. She made five birdies in the final round, and moment by moment, her name started creeping up the leaderboard without hitting a shot.
Fredgaard shot a final-round 73 to finish a shot off the lead, leaving Kajitani and Migliaccio, who played together in the first two rounds at Champions Retreat, in the playoff.
Two-Putt for Victory
The players returned to the 18th hole to decide the tournament. Migliaccio hit her second shot right of the greenside bunker on the right, and her third shot found the hazard. She got up and down from the bunker to finish with a bogey 5.
"It's hard to bogey and lose to a par," Migliaccio said. "If they birdie, it's like, well, did everything I could. But I wanted to hit a better shot and felt good over the club and was happy to be in the fairway but it just didn't work out."
Kajitani made a spectacular two-putt on the 18th green for the victory. She shot 73-72-72 for a 1-over-par 217 total.
"To be honest, when I came to the States, I didn't expect that I'm going to win the tournament," Kajitani said. "And then day-by-day, I have been confident, and then I won the tournament."
By Betsy Gilliland