Enon Hopkins Roofing Company, LLC is locally owned and operated by Enon C. Hopkins, Jr. They serve Augusta, Evans, Grovetown, Harlem, Hephzibah, Martinez, North Augusta, Waynesboro and the entire CSRA. Enon Hopkins Roofing is a local roofing company with over 40 years of experience.  
Services include working with your insurance company from start to finish with any claims, roof inspection, roof installations, cleaning and repairs, gutter installation, vinyl siding, sofit and fascia installation, window installation and carpentry repairs. Staff members specialize in commercial roofing and all residential roofing.
The roofing company is a member of the Columbia County Chamber of Commerce and has an A-plus rating from the Better Business Bureau. Enon Hopkins is not affiliated with any other roofing or home improvement business and they're easy to find.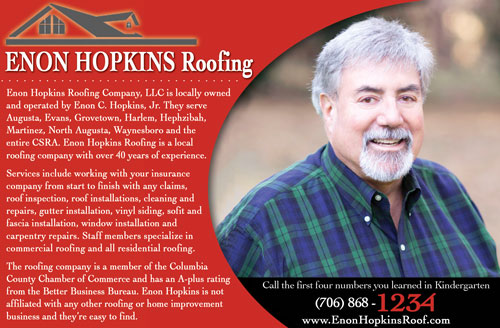 Call the first four numbers you learned in Kindergarten
(706) 868 –1234
Visit us at www.EnonHopkinsRoof.com