Rooftops continue to pop up in new and existing developments in the county.
Columbia County is a desirable place to live, but proper planning is vital for it to remain that way. To keep up with growth and development, county officials are in the process of updating its comprehensive plan, Vision 2035. Adopted in 2016, the growth and development guide is slated for revision every five years.
County officials have received plenty of feedback about the plan from residents, and another public hearing about Vision 2035 revisions was scheduled for mid-September. The draft document was supposed to be finished by February 28, but because of covid-19, the state Department of Community Affairs gave the county an extension until June 30.
In the meantime, though, construction has continued, in accordance with the plan, throughout the county. From August 1, 2019 through August 15, 2020, Columbia County issued 867 residential building permits and 101 commercial building permits. From August 1, 2018 through August 15, 2019, the county issued 789 residential building permits and 128 commercial building permits.
"Our residential numbers are slightly ahead of the 2019 numbers," says Scott Sterling, the county Planning Services director. "Commercial development in 2020 is lagging a little bit behind, and that is directly related to covid. Businesses that thought they would open have decided to wait and see what happens. There's no slowdown in interest or demand."
While growth is occurring "everywhere" in the county, Sterling says it appears to be concentrated in Grovetown, on both sides of Appling Harlem Road and in the Riverwood Plantation, Lewiston Road and William Few Parkway areas.
"A number of new subdivisions or phases of existing subdivisions are under construction or development," says Sterling.
For instance, construction in the first section of Greenpoint, a 1,200-acre mixed-use development off of Appling Harlem Road, is underway. Sterling says the county also has given the go-ahead for the development of additional residential and commercial properties in Greenpoint this year.
Site work for the first phase of Jackson Heights off of Old Belair Lane in Grovetown, has begun.
Contractors are building the last phase of Canterbury Farms, which will include about 150 more homes.
Additional phases also are being built in other Columbia County neighborhoods such as Baker Place off of Baker Place Road in Grovetown.
In Evans, construction continues as well in neighborhoods including Whispering Pines and Eagle Creek off of William Few Parkway, Crawford Creek off of Hereford Farm Road, and Bell Tower and River Oaks off of Hardy McManus Road. Construction also has begun on apartments and townhouses, as well as some single-family dwellings, in a new phase of River Island.
From August 1, 2019 to August 15, 2020, Grovetown issued 198 permits for new single-family residential homes and 81 permits for new multi-family townhouses and apartments. The city did not issue any permits for new commercial construction during that time frame. From August 2018 through August 2019, Grovetown issued 345 residential building permits and 11 commercial building permits.
The final phase of Pepper Hill Estates, located off of East Robinson Avenue, was completed recently. In addition, several houses that fall within the city limits in McCoy's Creek are under construction. The second phase of Deer Hollow off of Wrightsboro Road is in the early stages of development. Section 5 of Grove Landing, off of Harlem-Grovetown Road, is in the final phase of construction.
Other new neighborhoods in Grovetown include Euchee Lake and Caroleton, both off of Harlem-Grovetown Road; Shepherds Square off of the Barbara Street area; and Robin Landing Townhomes and Brighton Landing, both off of Horizon South Parkway.
New multi-family residential areas include Joiner Crossing, Highland Hills Apartments and Brighton Woods Townhomes. The largest multi-family community currently under construction is a complex called The Station at Brighton, which includes townhome and apartment living in buildings featuring a variety of apartments under one roof. Some buildings have six units, while others have 12 or 24 units. One or two buildings house 40 units each.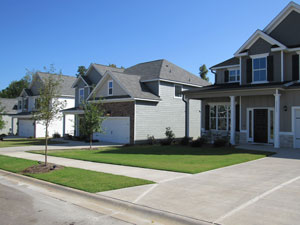 From August 1, 2019 through August 15, 2020, Harlem issued 125 permits for new residential construction. The city also had a commercial renovation for the Cyber Center in conjunction with Fort Gordon. From August 15, 2018 through August 15, 2019, Harlem issued 55 residential building permits and two commercial building permits.
Harlem will mark its 150th anniversary on October 24, but all of the events for the sesquicentennial celebration had to be canceled because of covid-19. However, the virus has not slowed down construction.
"I don't know that anything affects construction in Columbia County," says Brett Cook, Harlem's city manager.
The city has rezoned a small tract of land on Bowdre Street for a development of townhomes. "It will be within walking distance of downtown," Cook says.
Ground has been broken for another townhome community, Amesbury Station, off of Appling Harlem Road. Cook expects the groundbreaking for Hickory Woods, a neighborhood of 120 single-family homes on a 70-acre tract off of Sawdust Road, to occur in the next couple of months. In addition, he says, a few lots still are available in Cornerstone Creek.
Cook expects Harlem to continue to draw residents who prefer a more laidback lifestyle. "To us, Columbia County is urban, and Harlem is rural," he says. "A lot of people want to be in Columbia County, and they can still avoid traffic in Harlem."
To accommodate the growing city, Cook also says expansion of Harlem's wastewater treatment plant, which will increase capacity by about 300 percent, could begin in 2021.