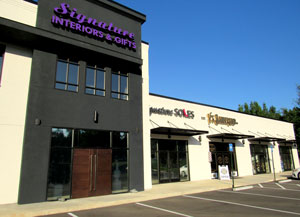 More rooftops bring more commerce to Columbia County.
It's business as usual for new businesses to find a home in Columbia County. Since the beginning of 2021, the county has approved more than 400 applications for business licenses. Enterprises range from barber shops and beauty salons to convenience stores and clothing boutiques to health and fitness and food services to landscaping and home improvement to storage units and cleaning services – and just about anything else imaginable.
"There are always going to be a lot of from-home type industries, but brick-and-mortar has not gone away," says Scott Sterling, the county Planning Services director. "We're still seeing interest in strip centers and multi-tenant buildings."
Construction is nearing completion on two Amazon facilities – a distribution center and a sortation center – at White Oak Business Park in Appling. The five-story, 2.8 million-square-foot Amazon distribution center welcomed employees in September, and the 275,000-square-foot sortation center is expected to open at the end of October.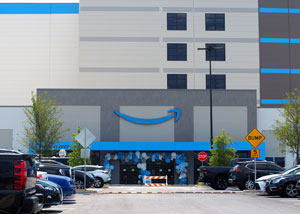 "From an economic standpoint, they will create a lot of job opportunities and career opportunities," Sterling says. "I think Amazon is going to do wonderful things for the county."
Robbie Bennett, executive director of the Development Authority of Columbia County, agrees.
"Both of them will add significant growth to our region – Columbia County specifically," he says. "It also creates a wonderful tax base for our region, specifically the Board of Education."
The Development Authority also is working with developers to construct additional buildings at White Oak to address the needs of incoming businesses, says Bennett. For instance, one developer has a contract on a piece of property at the business park to construct a 180,000-square-foot spec building that could be sold or leased to a tenant. The developer has an option on another tract of land at White Oak as well.
"Any time a developer builds a building like that, it creates a great marketing tool for us," says Bennett.
He also says a cyber campus with four buildings totaling 480,000 square feet is coming to the area outside of Fort Gordon's Gate 6.
Premier Networx, an IT management company, is building a state-of-the-art cyber technology center on the River Watch Parkway just across the county line in Richmond County.
However, small businesses have a place in Columbia County as well.
Apricot Lane Boutique, which carries women's clothing, accessories, jewelry and gifts, opened in Mullins Colony Plaza in Evans, and Alta Paint & Décor opened in late August near the Evans Walmart.
In Martinez, Lace and Veil Bridal Boutique is opening in the Petersburg Shoppes near Final Cut on Furys Ferry Road in November.
Signature Shops of Furys Ferry, which includes Signature Interiors & Gifts, Signature Soles, Signature Interiors & Gifts Consignment and V's Barbershop, opened on Furys Ferry Road in December. At the corner of Furys Ferry and Vaughn roads, Escape Outdoors has opened a location in the former RiteAid building.
Next door to Escape Outdoors, Pinnacle Bank is opening its first branch in the area in a former Cadence Bank location.
Revisions to Vision 2035, the county's long-range comprehensive growth and development plan that originally was completed in 2016, were adopted in June, and the updates include the designation of Furys Ferry Road and River Watch Parkway as professional corridors.
"While they were primarily residential areas in the past, it became appropriate to consider some commercial activities there such as small offices and personal services," Sterling says.
Washington Road continues to attract businesses as well. In-fill development in Martinez includes Batteries Plus, which opened in July after moving into the former Pizza Hut location.
For residents who need a place to keep their prized possessions, the county has no shortage of new storage facilities.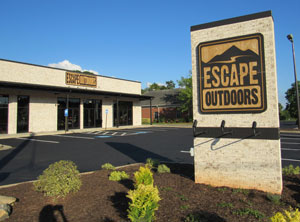 StoreEase opened on Furys Ferry Road in the spring. A mini storage facility is under construction on Columbia Road near the Flowing Wells Road intersection, and Eclipse at Riverwood, a multi-story facility for storage of big-ticket items such as boats or RVs, is going up on Washington Road near William Few Parkway.
"The lots in many subdivisions are not big enough to store some things, or neighborhood covenants restrict the storage of boats, etc.," says Sterling.
Grovetown and Harlem also are getting their share of the action.
In Grovetown, 15 new businesses have opened in the past year. "The majority are service-type businesses," says Ronald Kurtz, the Grovetown director of Planning and Community Development.
New businesses include Jimmy's Home Furnishings in the former Food Lion location on Horizon South Parkway and Jiffy Lube, which reopened on Wrightsboro Road. A new Sparkle Car Wash also has come to Grovetown.
Brighton Park includes six units with a total of 17,600 square feet of office space, and another 3.68 acres is slated for future development of retail or office space. Goodwill Industries of Middle Georgia and the CSRA also opened a Job Connection-Career Center on Gateway Boulevard in March.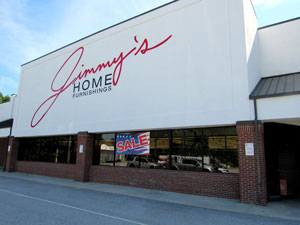 Harlem's main thoroughfare, North Louisville Street, has seen a lot of activity in the past year. New businesses include Boho Soul Boutique, which opened in March, and Southern Smoke Market, which opened its doors in June. The specialty shop sells rubs, barbecue sauces, brines, pellets and outdoor cooking utensils as well as home décor, soaps and fragrances.
"All of our storefronts downtown are full," says Debra Moore, Harlem city manager.
New businesses also are coming to other parts of the community, as Car Collective, a car detail center and used car lot, opened on West Milledgeville Road in the summer.
As long as new rooftops keep coming to the county, Sterling believes businesses will take a good look at locating here as well.
"We're the center of a lot of activity in the region," he says. "That energy snowballs into more and more. We've landed on a lot of radars."
He expects Columbia County to remain front and center for the foreseeable future.
"Columbia County is a desirable place to be with the growth and development of the past several years," says Sterling. "Businesses want to be here to capture the demand."
Residents can expect to see more growth in Evans as well.
"I think this time next year, there will be a lot of development in the downtown Evans area," Scott Johnson, county manager, says.