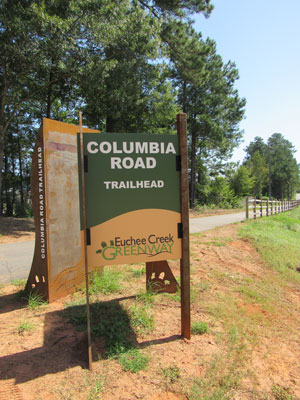 Recreational and entertainment opportunities for residents are on the rise.
While Columbia County has an abundance of natural resources that provide outdoor activities such as biking and paddling, more amenities are coming to the county as well.
Phase I of the Euchee Creek Greenway, which stretches from Canterbury Farms subdivision to William Few Parkway, opened in September.
Other types of recreational opportunities also are available or on the way. For instance, the 70,000-square-foot Performing Arts Center is scheduled to be finished in Decembes. "We're hoping, if covid allows us, to have events there early in 2021," says John Luton, director of Community and Leisure Services.
With the capacity to accommodate about 2,100 people, the PAC will provide space for a variety of entertainment opportunities such as Broadway plays, orchestras and other performing arts groups. The PAC will have a multipurpose room and a museum as well.
Nearby, construction of The Plaza parking deck is estimated to be complete by December. The $4 million parking deck will include about 280 spaces. Construction of another parking deck and expansion of the Justice Center are "still on hold," Scott Sterling, the county Planning Services director, says, because the bids came in over budget.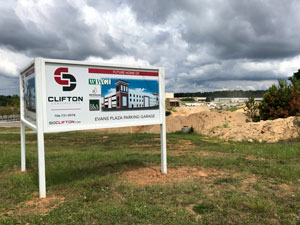 Two new parks opened this year in Columbia County. Gateway Park opened in March, and Lakeside Park opened in August.
"The splash pad at Gateway has been popular, and we have had a few small events there like movie night," says Luton.
Other Gateway Park amenities include a playground, a large covered pavilion and a 150,000-square-foot meadow surrounded by a concrete walking path.
Lakeside Park features five multipurpose fields, six lighted tennis/pickleball courts, a playground, pavilions, picnic areas and a lighted, half-mile walking trail.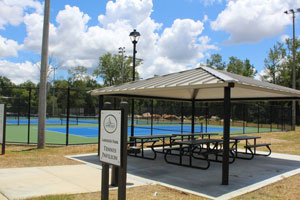 In addition, the Patriots Park expansion was finished in the summer. This project included improved connectivity between the two main sections of the park, and a 530-foot-by-308-foot mega field with lights and a restrooms/concession building.
The county is finalizing the design of the $3 million renovations to Blanchard Park on Dewey Drive off of Belair Road in Martinez. Plans include the construction of actual pieces of the playground into the topography, a rope-like bridge across the creek and a dog park. County officials hope to break ground on the project sometime next year.
The search is still on for land to build a $3 million park in the Riverwood area as well.
Featuring open green space, the Plaza Park at Evans Towne Center will provide additional parking for the PAC. A covered pavilion for a farmers' market is part of the plans as well.
"We hope to open the Plaza Park by early 2021. We hope it will be finished by the time we have the first show at the PAC," says Luton.
He says covid-19 has had little effect on recreational opportunities. "It really hasn't slowed construction. It has slowed down some events or programs, but we've tried to push forward," Luton says.
Bids for Sandy Creek Trail, a multi-use trail in Harlem that will be built in two phases, went out in August. Off of Milledgeville Road, the trail will run south parallel to Appling Harlem Road.
Enopion Theatre broke ground on its new 150-seat theater on Flowing Wells Road in October 2019, and construction should get underway in November. The property also includes walking paths and five small outdoor stages, which currently are in use.