The Bike Ride Across Georgia, aka BRAG, celebrates its 40th anniversary this year.
With the inevitable passage of childhood into adulthood, some sacraments of youth are too prized to leave behind. And that's the way it should be.
"Remember when you were a kid, and you learned to ride a bike?" asks Dennis Moberg of Martinez. "I never stopped."
Moberg and his wife, Marita, travel far and wide to explore the planet on two wheels. They already have taken bike tours in New Zealand and Patagonia, Chile and Argentina this year, but they're just as happy sticking closer to home. Since 1996 they have ridden in the Bike Ride Across Georgia, which is celebrating its 40th anniversary this summer, about 15 times.
The first one began in Savannah with 120 riders and ended in Columbus, when 60 saddle-sore cyclists completed the 300-mile tour. Now, however, BRAG, the second-oldest intrastate bicycle tour in the world, attracts about 1,200 riders for the seven-day event.
With bike routes that vary from year to year, BRAG showcases the best of Georgia from its food and drink to its diverse terrain to its hometown hospitality.
This year BRAG, scheduled for June 1 – 8, begins in Ellijay in the north Georgia mountains. The route winds its way through Gainesville, Covington, Milledgeville, Swainsboro and Hinesville before ending in the waterfront town of Darien. On Tuesday and Wednesday, the riders always stay overnight in the same place for a rest day, and this year the layover is in Milledgeville.
"It's not a race. It's incredibly peaceful to just ride a bike with a friend or your brothers," Evans resident Rich Dimenna says.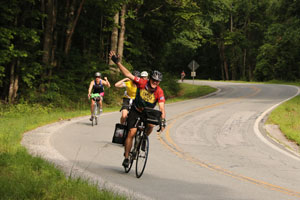 Joy Ride
Dimenna rode in his inaugural BRAG in 2006 after a friend asked him to do it. "At first I looked at him like he was out of his mind," he says. "Six days of riding about 400 miles?"
His friend dropped out on day one because of heat exhaustion, but Dimenna kept pedaling and has participated ever since. His younger brothers later joined him in the annual event. Although they no longer take part in the bike tour, he has continued to ride with a friend and "honorary brother" from Columbus, Georgia since 2008.
Dimenna rides a few times a week, averaging 40 – 50 miles per week or about 2,000 miles a year. He bikes around his house through subdivisions and on lightly traveled roads as much as possible, and sometimes he goes on group outings on Saturdays and Sundays.
"It's great exercise. It's fun," says Dimenna, who also does other rides around the country. "I've had a bike for as long as I can remember. When my wife and I got married in 1969, we bought each other bikes as wedding presents."
To train for BRAG, he rides about 1,000 miles starting in January and works out at the gym two or three times a week.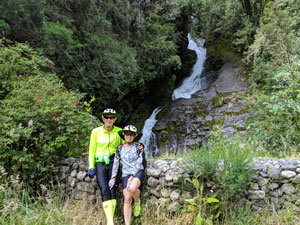 Augusta resident Jim Parkerson, who also got started at the urging of a friend, has ridden in BRAG since 2003. Not that it took much persuasion, though.
"I like riding bikes because I like the exercise and being outside," he says. "I've never done a spin class. I'd rather bundle up and put on leather gloves and ride outside in a snowstorm."
Parkerson doesn't have a particular training regimen for BRAG. He just rides – a lot. During the winter, he rides about 400 miles a month. He usually rides 40 – 50 miles on Saturdays and 40 miles on Sundays. He bikes to and from work every day in an eight-mile round-trip commute, and he likes to ride on FATS (Forks Area Trail System) and Bartram Trail.
He also does bike tours in other states and BRAG-sponsored events including the three-day BRAG Spring Tune-Up Ride and the two-day Challenge of the Centuries. During "Big" BRAG, Parkerson usually spends "rest day" doing the optional 100-mile ride, and he has the century bandannas to prove it.
For the Mobergs, BRAG is a good way to explore the Peach State. "The ride goes through small towns that tend to be away from the interstate. A lot of people can live in Georgia all their lives and never go to these towns," he says. "If you like exercise and touring, biking is a good way to combine the two. It's not like being in a car when you're buzzing by things at 60 miles an hour."
Moberg and his wife ride their bikes whenever they can. When they're in town, they ride an average of 50 miles a week. When they travel for bike tours, they ride about 500 miles in two weeks.
"We ride every day when we're home, and in Georgia, we can ride all year long," says Moberg. "All you do is ride farther when you do those rides."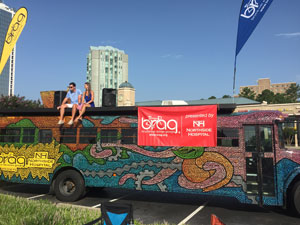 Along the Route
To begin the tour Parkerson and the Mobergs drive to BRAG's final destination, park their cars and take the BRAG bus to the starting point. Dimenna's wife, Sharon, drives him to the start of the race and picks him up at the finish.
Once the event gets underway, BRAG-gers typically start pedaling at daybreak and put on the brakes in the early afternoon to beat the heat. Cyclists average 55 miles a day, and well-stocked rest stops with beverages, snacks, first-aid kits, mini bike shops and porta-potties are set up every 12 to 18 miles.
Some riders, like Dimenna and Parkerson, camp overnight in school gymnasiums "with 500 of your best friends," Dimenna says, or in tents. Others, like the Mobergs, spend the night in hotels. Showers are available for the campers at the schools or BRAG shower trucks, and baggage trucks transport bedding and extra clothes from one town to the next.
"Each night at the schools, there is a bigger stand with a bike shop truck for significant repairs," says Dimenna. "Some of them will even sell you a new bicycle."
Along the route, bikers carry items such as energy bars, water bottles, a pump, a patch kit, an extra tube, sunglasses and cell phones with them. Raingear is a must as well. Parkerson always takes a couple of mustard packets – his trusted cure for cramps – along for the ride.
"My wife and I ride with a blinking light on the front and a blinking light on the back, and we wear brightly colored clothes," Moberg says.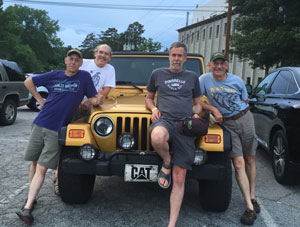 'A Big, Rolling Party'
BRAG is about much more than pedaling, however.
One of its highlights is the daily after-ride parties that include BRAG-tivities such as bike trivia, one-legged bike races, educational classes, yoga, massages, live music and entertainment. Of course, riders also enjoy finding their favorite beverages at the BRAG bar. For lunch or dinner, they have the option of eating at a restaurant in the town where they stay overnight.
"You catch a bus, and you go drink beer," says Parkerson. "You can drink and eat as much as you want because you have earned it. That's part of the appeal. It's just a big, rolling party."
Socializing with other riders or people that live along the route is part of the fun as well.
"I've met a lot of people. Usually, I'm slow to go up to people I don't know and start a conversation," Dimenna says. "But when we're riding, I'll to talk to almost anybody."
Other cyclists include wounded veterans riding improvised bikes and parents on a tandem pulling behind their child in an attached trailer.
"It's quite an experience. It's like a family reunion now," Parkerson says. "It's a convivial atmosphere. You see the same people year after year."
He even met his girlfriend, Joan Alden, in 2013 when she did BRAG Lite in which bikers ride for three consecutive days.
The Mobergs have met townspeople who gave them shelter from rainstorms on their front porches. At a rest stop near a filming location for "The Walking Dead," they met people dressed like characters in the TV show.
Although BRAG is a bicycle tour, not a race, Dimenna once encountered a rider with a canine companion that thought otherwise. The dog seemed to enjoy the adventure, except for a single – yet persistent – complaint.
"Every time someone passed them," Dimenna says, "the dog whined."
For more information on the Bike Ride Across Georgia, visit brag.org.
By Todd Beck