Feel the burn for a worthy cause – a 5k run that benefits firefighters and their family members who are battling cancer
While wearing their gear and air packs, Grovetown resident Phillip Weathers, a firefighter at Savannah River Site, and his co-workers have been regular participants in races to raise awareness about local charities. Then Weathers decided to up his game. Five years ago he founded FireK FiveK to help fellow firefighters and their family members that are battling cancer. 
In 2010, the National Institute for Occupational Safety and Health launched a study, which was completed in late 2015, of almost 30,000 firefighters in Chicago, Philadelphia and San Francisco. The results of the study showed that the firefighters had higher rates of certain types of cancer than the general U.S. population.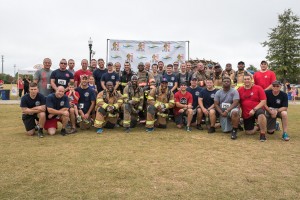 "We know what the risks are, and for most of us, it wouldn't matter. We'd still do the job," says Weathers. "We want to raise money for the firefighters that need help. We also want to raise awareness and find better ways to do the job."
Once the proceeds from this year's race are distributed, FireK FiveK will have given more than $10,000 to firefighters in need in the past five years. 
The 5k typically attracts 120 to 150 runners, and this year Weathers hopes to have 200 racers in the field. Participants can register as individuals or as teams. The course, which is fairly flat and has multiple water points, is USA Track & Field-certified this year. It also is on the list of races for Run & See Georgia Grand Prix, a series that encourages runners to travel and race across the state.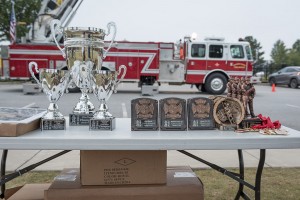 Top performers in each age group, as well as the top male and female finishers, will earn trophies. In addition, says Weathers, "Firefighters will compete for a bragging rights trophy that looks like the Stanley Cup." 
The family friendly event will include a live DJ, inflatables for kids, face painting, displays of firefighting apparatus and more. Hot dogs, hamburgers and beverages will be available at no charge, but donations are welcome. Prizes will be raffled off at the event, and calendars featuring firefighters that have been helped by the fundraiser will be sold as well.
"In the last one or two years, the support has been outstanding from the people that have come on board. This year is shaping up to be a big year for us," Weathers says. "It's really cool to be a part of this."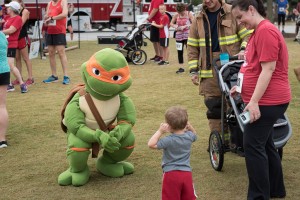 If You Go: 
What: FireK FiveK
When: 9 a.m. – 11 a.m. Saturday, October 6; check-in begins at 7:30 a.m.; race begins at 9 a.m. 
Where: Lady A Pavilion, Evans Towne Center Park
 How Much: $30 – $85 for race participants; spectators are free 
More Info: firekfivek.com