Sparkling on the baseball diamond, a young powerhouse from Evans knocks it out of the park in a worldwide competition.
When 12-year-old Colin Anderson of Evans competed in the World Baseball Softball Confederation (WBSC) U-12 Baseball World Cup in Taiwan this summer, he was on a mission – to bring home the gold medal with his teammates. Well, they did just that, becoming the first stars-and-stripes team at that level to finish a World Cup undefeated. However, Colin collected a lot more hardware as well.
After batting .556 (10-for-18) with a tournament-high seven home runs and 21 RBIs, Colin was named Most Valuable Player of the championship. He homered in five of Team USA's eight games, posting two multi-homer games, and earned a spot on the All-World Team as an outfielder.
"The main goal was winning the gold medal," says Colin. "All of the trophies and the MVP award were extra. Winning the gold medal was a once-a-lifetime experience. It's amazing, and it was great to do it with all of my teammates."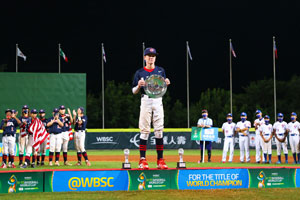 Colin, one of 18 players selected for the elite team, had no trouble getting locked in at home plate. His first two long balls of the tournament were grand slams.
"Being there made me think, 'I'm here for a reason. I already made the team. There's no pressure. Just relax and have fun.' When I told myself that, it helped me relax at the plate," says Colin, who finished the World Cup with three grand slams.
In the championship game against Venezuela, which Team USA won, 10-2, Colin hit a go-ahead, two-run knock to right center field in the third inning. With two outs and nobody on in the fourth, he crushed his final home run of the tournament into the scaffolding of a nearby building.
With his launch of that ball into oblivion, USA Baseball 12U tweeted, "BREAKING: Colin Anderson just hit the furthest home run of all time. Holy cow." Video of the blast has garnered more than a million views on Facebook and Twitter.