Newly available all-terrain wheelchairs in state parks are a game changer for physically challenged outdoor enthusiasts.
Enjoying the great outdoors recently became easier for many people, thanks to All Terrain Georgia, a partnership between the Georgia Department of Natural Resources and the Aimee Copeland Foundation.
Through this program, high-mobility all-terrain wheelchairs now are available for use free of charge at 11 state parks, historic sites and a wildlife center.
Users safely can travel rough terrain to explore trails, go fishing, participate in adaptive hunting and enjoy other outdoor education and recreational activities.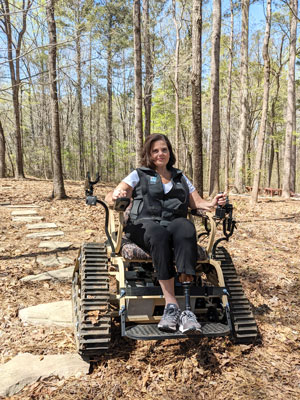 "All Terrain Georgia is the pride and joy of Aimee Copeland Foundation," says Copeland, a Georgia native who created the organization. "It's been a long time coming, and we're honored to offer this life-changing program to the community."
After being diagnosed with a rare flesh-eating bacterial infection from a 2012 zip-lining accident at age 24, the outdoor adventurist lost both hands, her right foot and her entire left leg to amputation.
However, reconnecting with nature was a central part of recovery for Copeland, and she started the foundation to provide greater access to those with physical challenges.
Currently the all-terrain wheelchairs are available at the following state parks and historical sites: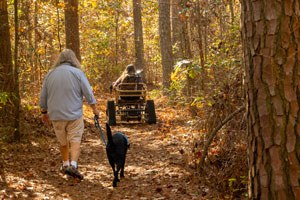 • Charlie Elliott Wildlife Center, Mansfield
• Cloudland Canyon State Park, Trenton
• Don Carter State Park, Lake Lanier
• Red Top Mountain State Park, Lake Allatoona
• Etowah Indian Mounds Historic Site, Cartersville
• Fort Yargo State Park, Winder
• Hard Labor Creek State Park, Rutledge
• Panola Mountain State Park, Stockbridge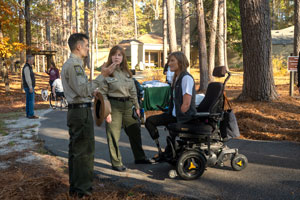 • Picketts Mill Battlefield Historic Site, Dallas
• Smithgall Woods State Park, Helen
• Sweetwater Creek State Park, Lithia Springs
Advance reservations are required and can be made at allterraingeorgia.org. Users also must be certified and accompanied by a "buddy" who is at least 18 years old, in good physical condition and carrying a charged mobile device in case of emergency.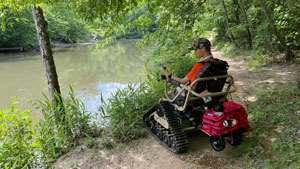 To qualify for user certification through the program, eligible disabilities include cerebral palsy, muscular dystrophy, spinal cord injuries and lower limb amputations.
Anyone with another type of disability can contact the Aimee Copeland Foundation at aimeecopelandfoundation.org for consideration.
By Todd Beck