Forget the cold, and warm up to the idea of disc golf, chili and fighting hunger.
The 13th annual International Disc Golf Center Ice Bowl is coming up, and the fundraiser is open to professionals, amateurs and juniors. Some people, however, need not register for the festivities. Namely, no wimps and no whiners. Them's the rules.
For those who can refrain from whining or complaining, the Professional Disc Golf Association-sanctioned singles tournament will be held Saturday, January 25 at Wildwood Park in Appling.
Check-in begins at 7 a.m., and the first round starts at 9 a.m. The second round begins at 1:45 p.m., and the awards ceremony is set for 6 p.m. Early player check-in also will be available 11 a.m. – 5 p.m. Friday, January 24 in the IDGC lobby.
To help alleviate hunger in the area, the Ice Bowl will benefit Columbia County Cares and Golden Harvest Food Bank.
"This is a feel-good event where philanthropy is more important than competition," says Zach Shafer, the IDGC manager. "In the past three years, we've raised enough to provide about 25,000 meals."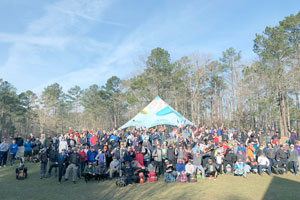 In 2019, the tournament featured 167 participants who raised $2,900 and 676 pounds of food. Out of 197 Ice Bowls across the country, the Wildwood Park event finished 28th in cash raised and 12th in food raised.
Food donations can be brought to the IDGC any time from January 20 through January 25. For every two food items donated, participants will receive one raffle ticket for the opportunity to win prizes during a drawing at the awards ceremony. Raffle tickets also can be purchased in the IDGC Pro Shop during the event.
For lunch between rounds, the IDGC once again will partner with the Augusta Disc Golf Association to feature its annual chili cook-off. Disc golf competitors will vote for the winner, who will receive a trophy and all-important bragging rights for a year. Chili chefs should coordinate with the ADGA to enter the cook-off.
Supporters can provide crackers, cornbread, drinks or other goodies to accompany the meal as well.
The fundraiser also will include a silent auction for rare discs and other memorabilia. Bidding will close about 10 minutes before the start of the awards ceremony.
The event can accommodate 216 participants, and Shafer hopes to have 180 entrants. "Competitors will come from about six states, mostly in the Southeast," he says.
The cost is $35 for professionals and amateurs and $30 for juniors 18 or younger. Registration closes at 8 p.m. Thursday, January 23. For more information, visit discgolfscene.com or call (706) 261-6342.