The game of pickleball is the perfect pursuit for anyone who wants to make new friends and get a good workout at the same time 
Grovetown resident Larry Harper has an addiction, but he has no plans to do anything about it. Except to feed it even more. And then more after that. Larry is addicted to pickleball, and he is not alone.
Caitlin Barry of Evans got hooked after taking one fundamentals class. "I went home and told my husband, 'I need to get my own paddle,'" she says. 
Martinez resident, Peggy Declue, a former tennis player, started playing pickleball in June when a friend got her into it.
"I like it because it's fun. It's indoors, and I'm meeting new people," says Peggy, who is recovering from breast cancer. "I thought I wanted to go back to tennis, but this is not quite as rough on your body."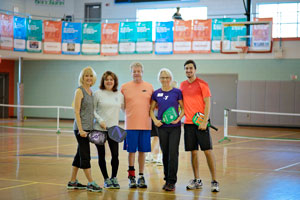 These three Columbia County residents were among the scores of people at the Wilson Family Y on a recent Friday morning for drop-in pickleball play (which also takes place on Monday and Wednesday mornings). The camaraderie among the diverse group of players – whether they were on the court or waiting on the bleachers for their turn to play – was palpable.
"It's known as the friendliest sport on Earth. It's also the fastest growing sport," says Anne Rheins, the local ambassador for the USA Pickleball Association.
Pickleball ambassadors are volunteers who are devoted to the sport and have pledged to promote it in their areas. So, yes, the ambassadorship is real, thank you. And so is her fellow pickleballers' enthusiasm for the sport. Clearly, Anne is good at her mission.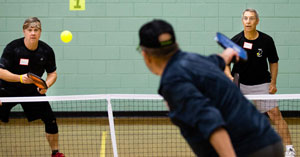 Multi-Generational Appeal
For the uninitiated, pickleball combines elements of ping pong, badminton and tennis. The fast-paced indoor/outdoor game is played on a badminton-sized, 44-foot-by-20-foot court with a modified tennis net. The game can be played as singles or doubles, and the only equipment required is a perforated plastic ball similar to a whiffle ball and a composite or wooden paddle about twice the size of a ping pong paddle. The sport, which is governed by the USAPA, has developed a passionate following because of its friendly, social nature and multi-generational appeal. 
"It's a small court. You're up close with people. You can have a conversation while playing. When you're not playing, you're visiting with people," says Anne. 
For open play, the Wilson Family Y sets up three courts that are color-coded according to players' ability – red for advanced, yellow for intermediate and green – what else? – for newbies.
"It looks like chaos, but it's organized chaos," says Anne. "People can't come to open play until they've been through the fundamentals program."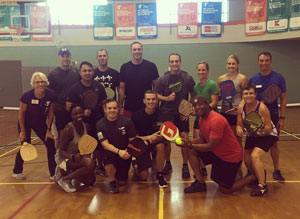 She teaches pickleball fundamentals classes at the Y for ages 16 and older from 10-11 a.m. Tuesdays and Thursdays and on Thursdays through September 14 from 6-8 p.m. Players include a range of ages, ethnicities and skill levels.
"A lot of retired people play. A lot of young people who work shifts play," says Anne.
"Even people who have no sports background can learn to play pickleball. They can pick it up very quickly and get good at it very quickly."
Anne, who also serves as the Wilson Family Y active older adults coordinator and pickleball coordinator, has been playing the sport for two years. She first learned to play after she found a pickleball net at the Y. "A member had a brother who played pickleball up North, so we said, 'Let's figure out how to play.' We were Googling instructions on our phones and begging other people to play with us. If someone picked up a ball that rolled into the hall, we would ask them to play."
Anne also teaches pickleball fundamentals at Warren Road Community Center, and she has helped launch the sport in several neighborhoods. Montclair in Richmond County had the first permanent outdoor pickleball courts in the area. Courts are spreading into Columbia County as well. For instance, Windmill Plantation has two permanent pickleball courts and Woodbridge has dual purpose pickleball and tennis courts. "I can go anywhere to help people get started," says Anne.
She started teaching a pickleball class for course credit at Augusta University this fall, and she has helped area schools such as Thomson High School get grants to purchase pickleball equipment.
Other area places with pickleball courts include Wesley United Methodist Church, which has a pickleball league where people can play 1-3 p.m. and 8-10 p.m. Thursdays. Newman Tennis Center held its first pickleball tournament in July, and the Wilson Family Y has a ladder league. In the ladder league, players are assigned to divisions based on their skill level and move up or down the rankings according to their winning percentage.
"You have to be careful when you start playing pickleball because you can end up neglecting your job, your family, your home, your yard," says Anne.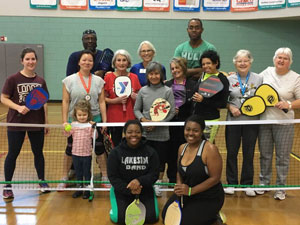 A Great Equalizer
Like a ski bum who works at night and hits the slopes all day, Larry works his schedule around his addiction to pickleball. He owns a hot dog stand on Broad Street in Augusta that is only open Fridays and Saturdays from 10 p.m. to 4 a.m. – the perfect arrangement to play nonstop pickleball. A gregarious guy who took up the sport 16 months ago, Larry started playing after another man in the Wilson Family Y locker room asked him to play. "Now they can't keep me away," he says.
He's not kidding. The 50-year-old plays at least five days a week. On Mondays, Wednesdays and Fridays he's at the Wilson Family Y open play from 8-11 a.m. Then he's off to the pickleball court at the Downtown Y from 11 a.m. to 1 p.m. Finally, he stops at Warren Baptist Family Life Center for more pickleball from 1-3 p.m. On Tuesday and Thursday mornings, he plays the game at the Kroc Center. Fittingly, Larry has crowned himself the "Pickleball King" (which could be about his abilities as much as his devotion to the game). After all, he says, "You have to believe, and you will become."
He calls the social aspect the biggest draw for him, but he also appreciates the health benefits of the sport.
"My speed, agility, balance, reflexes and hand-eye coordination have all improved," he says. "I have lost 75 pounds. I can play ball with my kids now. I can go up a flight of stairs without getting tired. I'm a happier person. The endorphins are amazing. I'll do anything my wife asks me to do – as long as it doesn't interfere with pickleball. I feel like I'm 13 years old."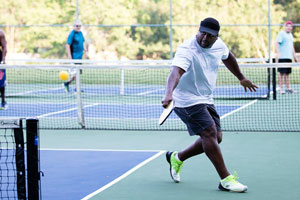 Augusta resident Mario Lett, a swing dance instructor, also enjoys the fellowship as much as the sport. "People sitting down talking to one another is what I like. I get to hang out with people in their 70s and 80s. It heightens my life," says the 29-year-old.
The game is a great equalizer in other ways as well. The court is small, and the straightforward rules make it easy to get rallies going.
The serve must be hit underhand and bounce in the opposite diagonal court. The return of serve also must bounce before the receiving team can hit the ball. After the first two hits, the ball can be hit in the air or after one bounce. As another equalizer, players cannot volley the ball when they are in "the kitchen," a 7-foot wide zone on each side of the net. Games are played to 11 points and require at least a two-point margin for victory.
"You don't have to run that much, and you don't have to be really fit to play pickleball. You only have to cover 10 feet," says Anne. "But it's still a good cardio workout." 
For Caitlin, who served in the Air Force for 13 years before leaving the military in early 2016, pickleball has been a life changer.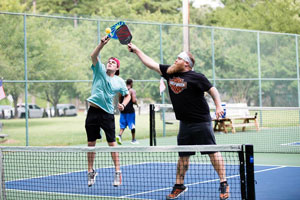 "I went from a professional background surrounded by diversity to being a stay-at-home mom," says the mother of two young children whose husband is stationed at Fort Gordon. "I missed the diversity of the service, but I have found it again with pickleball. It also has gotten me plugged into the nonmilitary community here." 
Caitlin took up pickleball in November of last year, and she plays two to five days a week. "I was growing tired of solitary exercise and craved more social workouts. After the many sales pitches I received on the wonders of pickleball, I decided to give it a go," says Caitlin. "Oh my, I am beyond hooked." 
And that's just the way Anne likes it. "I have met such as diverse group of people through pickleball," she says. "Pickleball has brought joy in my life in such a different way." 
For more information about the game, contact Anne at arheins@gmail.com or (706) 399-4958.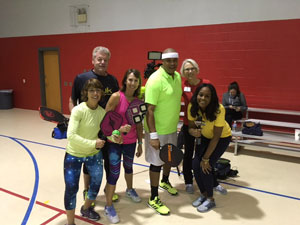 How in the Heck Did Pickleball Get Started? 
Pickleball was invented in 1965 on Bainbridge Island, Washington (near Seattle) by three dads – Joel Pritchard, Bill Bell and Barney McCallum. Their children were bored one summer afternoon, so they started playing a game on an old badminton court with ping pong paddles and a perforated plastic ball. Originally, the net was 60 inches high. After discovering how well the ball bounced on the asphalt surface, however, they lowered the net to 36 inches (34 inches at the center). The three men relied on badminton to create rules, and they never deviated from the original purpose of the game – to provide an activity that family members of all ages can play together.
A corporation was formed to protect the creation of the new sport in 1972, and in 1984 the USA Pickleball Association was organized to grow the game on a national level. Pickleball has grown into a popular sport throughout North America and is taking off in other parts of the world. According to the Sports & Fitness Industry Association 2016 Pickleball Participant Report, the game has 2.5 million players.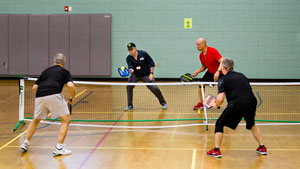 Accounts differ as to how pickleball got its name. Joel's wife, Joan, said she started calling it pickleball because the combination of different sports reminded her of the pickle boat in crew where oarsmen are chosen from the leftovers of other boats. According to Barney, however, the game officially was named after the Pritchards' cocker spaniel, Pickles, who would chase the stray balls and hide them in the bushes. Others claim both accounts may be true. 
By Betsy Gilliland