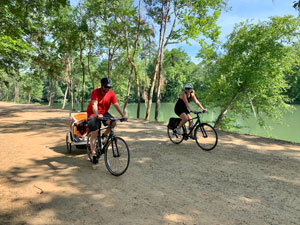 Celebrate National Bike Month and kick off National Bike to Work Week with the Kroc to Lock Ride.
If you're pumped up about spring, then one of the best ways to enjoy the season is with a bike ride along the Augusta Canal towpath with your family, friends and fellow cyclists.
The 10-mile Kroc to Lock Ride on May 15 starts at Kroc Augusta and proceeds to the Savannah Rapids Pavilion headgates in Martinez.
Once riders reach the headgates (or anywhere along the way), it's time to turn around and head back to the green space at the Kroc for a post-ride picnic. Be sure to have lawn chairs and blankets on hand.
The picnic will include grilled hot dogs (or veggie dogs upon request), cold drinks and Bruster's Real Ice Cream. Italian ice also will be available as a non-dairy option. Entertainment will feature a live DJ set by Matt the Mod.
The first 200 riders to check-in on event day will receive a free Kroc to Lock commemorative water bottle. In addition, 100% of the net proceeds will benefit the Augusta Canal National Heritage Area and future biking-related projects.
While the emphasis is on fun, there are a few rules of the road to follow. Hybrid, cross, gravel, mountain or comfort bikes are recommended for the terrain.
All riders are required to wear a helmet, and bikes should be in good working order. The minimum tire width to safely traverse the trail is 32 millimeters or 1.5 inches.
Cyclists should bring water or sports drinks, snacks, sunscreen and an emergency bike repair kit.
Water stations will be located at the Lake Olmstead Trailhead, the Pump House and Savannah Rapids.
Registration deadline is May 8. No onsite registration will be available.
If You Go:
What: Kroc to Lock Ride
When: noon – 4 p.m. Sunday, May 15
Where: Kroc Augusta, 1833 Broad Street, Augusta
How Much: $35 adults; $15 ages 7 – 12; $10 ages 6 and under (plus signup fees)
More Info: bikesignup.com