With a drive to succeed, this Columbia County car racer is finding himself in the winner's circle.
Michelin Raceway Road Atlanta has been good to Evans resident and racecar driver Franklin Futrelle. As a boy, he spent countless weekends there with his father, Jeff, who also raced as a hobby. He met his wife, Jessica, there when they were in college. And in late March, he won the Atlanta SpeedTour, which is part of the Trans Am Series circuit, there to notch his first TA2 class victory.
"It's my favorite track," says Futrelle of the 2.54-mile, 12-turn, world-class road course in Braselton, Georgia.
He also worked there as an instructor in the past. In addition, he made his TA2 debut last November at Road Atlanta, finishing third in qualifying and fifth in the race.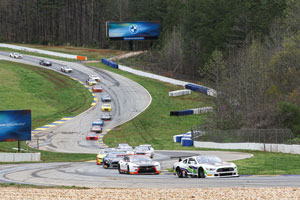 Car Wars
The Trans Am Series, sanctioned by SCCA Pro Racing Ltd., the wholly owned subsidiary of Sports Car Club of America, Inc., includes 10 to 12 races a year all across the country. The season runs from January to late October.
"It's similar to NASCAR, but we race on road courses. And instead of making only left turns, we make left and right turns," says Futrelle, who started racing go-karts at age 10.
The cars have no power brakes or power steering, and the drivers have to shift gears. An average track is 2 1/2 to 4 miles long with hills and multiple turns, and the races are 100 miles in length. They last about 1 1/2 hours, and Trans Am events typically have 25 to 50 racers. The Atlanta SpeedTour had 32 cars.
A Trans Am Series race does not require a mandatory pit stop for fueling, tires or driver changes. As a sprint, it is driver versus driver from start to finish.
Dating back to 1966, the Trans Am road racing series has experienced unprecedented growth in the last 10 years to include several distinct racing classes. Just as he has a preference for Road Atlanta, Futrelle calls the TA2 class his favorite as well.
"It's top tier. It's faster. It's very physical and old-school. It's also expensive," he says. "TA2 is the biggest, most competitive class. It's the flagship class. All of the cars are similar, so a lot of it comes down to the driver. It's not who has the best and most expensive car."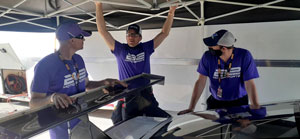 Futrelle drives a Ford Mustang in TA2 class races, which revive the "muscle car wars" of the '60s and '70s. During those years, brands like Chevrolet, Dodge and Ford released hot rod versions of their Camaro, Challenger and Mustang in a battle for supremacy to prove which one made the best performance cars on the American roads.
TA2 racecars are purpose-built racing machines that are designed, made and tuned for performance. Their engines are restricted to just under 500 horsepower, but they produce mind-numbing speeds.
The racecars travel at speeds of 165 mph, but Futrelle, who finished the 40-lap Road Atlanta in 1:24.811, says he has no fear on the track.
"When you have grown up doing it, you just try to go faster and push to the limit," he says. "I have crashed and broken bones, but I feel safer driving on the track than on the streets. We're all going the same direction, and everybody is sober. We know who is driving next to us."
All in the Family
As part of B2 Motorsports, a Huntsville, Alabama-based team that focuses on SpecRacer and Trans Am TA2 classes, Futrelle races four or five cars in different series. While he races a Mustang in TA2, SpecRacer Fords are enclosed-wheel, open-cockpit, purpose-built racecars that are powered by a Ford engine.
In the Stadium Super Trucks off-road racing series, he drives a souped-up, hand-built truck. For oval dirt racing, he drives a Chevy street stock car.
"Other people have the cars, and I drive them. If somebody will let me race, I'll drive the car," says Futrelle. "As you move up, it gets to be more expensive. But if you have the love for it, you'll make it happen."
According to driverdb.com, Futrelle has a race win percentage of 23.8% and a podium percentage of 42.9%. He believes he has found success in racing simply because of his inherent love for the sport.
Between running a third-generation family business and raising 4- and 5-year-old sons, Futrelle still finds time to race once or twice a month. He and his wife also traveled around the country to races before their children were born.
"My family comes to the races now. They're family-oriented events," Futrelle says. "We can stay at the track in a camper. The boys like it when Daddy is the 'line leader.'"
He says his wife has no qualms about his avocation. After all, since they met at Road Atlanta, he adds, "She has no excuse to not put up with it."
Futrelle practices every other day with a simulator at his house, and he trains and coaches people on the internet as well.
"The simulator is similar to what a pilot would use for a plane," he says. "Practice has never been something somebody has had to drag me to do."
Clothing is another key component of racing as well. Because the temperature in a racecar reaches 130 degrees, drivers wear three-layer Nomex suits, which were invented by NASA for astronauts. Underneath the suits, they also wear a cool shirt that has water lines running through it. The shirt helps racers prevent heat stress, reduce dehydration and maintain a safe core body temperature.
Despite the cool cars and the spaceship-inspired attire, Futrelle says the best part about his hobby is the camaraderie among the competitors.
"Racing is a niche sport. When you get to the track, everybody is just a racer. Demographics go out the window. We all have a common bond," he says. "They're my closest friends, even though we only see each other four or five times a year."
By Todd Beck