Veterans enjoy playing in a golf tournament with celebrities and visiting Augusta National Golf Club during a Master Tournament practice round
The Masters Tournament and the military are full of traditions, but it's never too late to start a new one – especially when the two forces come together. Last year the Veteran Golfers Association, a nonprofit organization that promotes golf to veterans and their families, launched Tuesday for the Troops, a fundraiser for the VGA, to honor veterans during Masters Week. This year's outing will be held April 2-5.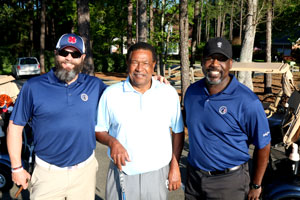 On Monday golfers will go to Augusta National Golf Club for a Masters practice round and have dinner at Azalea House. A golf tournament for the troops will be held Tuesday at Jones Creek Golf Club, and they will attend the Rock Fore! Dough concert that night.
Last year 28 golfers – 14 veterans and 14 celebrities – played in the tournament, and about the same number is expected this year. The soldiers will include the overall male and female winners and flight winners at the 2016 VGA National Championship and VGA board members.
"We'd like to create a long-standing tradition of holding Tuesday for the Troops during Masters Week," says Josh Peyton, the VGA president and retired U.S. Army Ranger and infantry officer in the 82nd Airborne Division. 
He certainly has allies at Jones Creek. Through PGA REACH and other programs for veterans, the property has been a longtime supporter of the military. 
"We are happy to help groups like the VGA raise money and raise awareness. It's a way for us to give back," says Gregg Hemann, director of operations. "Joe Caley, the VGA vice president, has been part of Jones Creek for years. This is a cause that touches everyone, especially in Augusta, Georgia, which is a military-based town."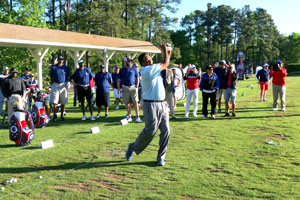 All-Star Event
The VGA partnered with Augusta Warrior Project for the outing, and the family of amateur golfer Bobby Jones, co-founder of Augusta National Golf Club and the Masters, sponsored the event as well. Jones served in the Army Air Corps during World War II, and his family provided the veterans with apparel for the event.
Celebrities included Randall McDaniel, NFL Hall of Famer; Plaxico Burress, former New York Giants wide receiver and Super Bowl champion; Russ Ortiz, a former Major League Baseball pitcher and All-Star; DJ Irie, the official DJ for the Miami Heat; Alexa Pano and Allan Kournikova, the top-ranked junior golfers in the world at the time; and Theo Ratliff, a former NBA All-Star. Augusta native Jim Dent, who played on the PGA and Champions tours, made a surprise appearance at the event as well.
"We won't know who the celebrities will be this year until the last minute," says Peyton. "It depends on their schedules."
Last year U.S. Army Sergeant Andrew Smith, who lost both legs in 2012 when he stepped on an improvised explosive device in Afghanistan, earned his way to Tuesday for the Troops by winning his flight for wounded veterans.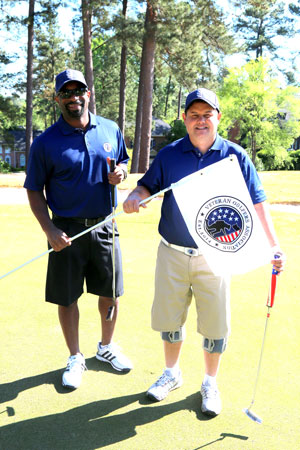 "Golf became a passion after I was injured," he says. "It was part of my therapy."
The Chattanooga, Tennessee resident used to play golf occasionally on weekends with his dad and his brother before he was injured. Afterward, his therapist put a golf club in his hands and told him to swing it to work on his balance.
"The tournament was less about the competition and more about the camaraderie. They made a lot of new friends," says Peyton. "For Andrew Smith, a double amputee, to hit a ball 200 yards, it's a pretty special thing to witness."
Hemann, who calls the wounded veterans the true celebrities, agrees.
"It's great to see. It's a really happy day, and I think they have a great time. There are a lot of conversations, a lot of picture taking and a lot of laughing, he says. "When someone makes a great shot, we hear a lot of cheering that we don't normally hear on a golf course. You can see the bond among the veterans, and it is so inspirational seeing people that have had devastating injuries overcome them."
Smith, a Purple Heart recipient who was part of the 82nd Airborne Division, went to a Masters practice round for the first time last year. "It's cool to be on the golf course. It's extremely special," says Smith. "It's one thing you never think you're going to do in life."
Peyton met Ben Crenshaw at the practice round last year when he saw him on the golf course and introduced himself to the two-time Masters champion. "It was really cool to shake his hand and get a couple of moments to talk to him," Peyton says.
However, he is just as happy to help provide an unforgettable experience for his fellow veterans. "For 99 percent of them, this was their first time at the Masters. They all became little kids and had the biggest smiles on their faces when they came back," Peyton says.
Life-Changing Experience
While golf can help veterans recover from physical and emotional disabilities, Peyton says the sport also gives them hope and makes them feel whole again.
"Veterans have gone through some really dark moments. A lot of them suffer from PTSD and other combat-related injuries. A lot of VGAs are using golf as a recovery tool for veterans to make their lives normal again," says Peyton. "Veterans have seen bad things, been injured or had a bad experience from the VA system. We're all about post-traumatic growth. Having a positive experience from golf is important to them to help them change their lives."
Peyton underwent two years of surgeries to save his right hand after a vehicle rollover accident in Iraq in 2011.
"Supporting veterans is a big deal. It makes a big difference in a lot of veterans' lives. They need positive stories, and they need to set goals for themselves," he says. "Tuesday for the Troops does that for them. It motivates them to earn a trip to the national championship, and especially to the Masters. If you set goals for yourself, you can achieve them."
He also says golf rekindles a trait that they all have in common.
"The one quality that all veterans share with each other is competition – the competition to be number one and the competition to never fail. Veterans have a desire and a will to succeed," Peyton says. "Golf is a sport where you don't have to be the tallest or the fastest. You just have to be determined and put in the time to see positive results. It's one sport where disabled individuals can compete against able-bodied individuals through the handicap system."
Hemann, who says the wounded veterans expect no special treatment, looks forward to Tuesday for the Troops. Ditto for Peyton.
"It's a life-changing experience to go to Augusta. It's a way for us to give back, and it's a token of our appreciation for their service to our country," says Peyton. "These are the guys that are true American heroes in my eyes. They're all over the country, and they love to play golf. We would love for the entire community to get involved through sponsorships or donations." 
For more information about the VGA, visit vgagolf.org.
By Betsy Gilliland