The second annual NOT'lanta Open will serve up three days of competition, camaraderie and conviviality for enthusiastic (is there any other kind?) picklers.
If at first you succeed, then try, try again. It works for the NOT'lanta Open, a pickleball tournament that was born last year, if not out of necessity, then out of an unwillingness to be denied.
The inaugural NOT'lanta tournament in Augusta's Montclair neighborhood was created after last year's Atlanta Open pickleball tournament was postponed from May until September, then ultimately canceled, due to covid-19.
Many local picklers had planned to attend the Atlanta Open, which draws more than 1,000 players, last fall. Undeterred after it was scrapped, they simply decided to have their own smaller event in September instead. Hence the name, NOT'lanta Open.
"The Atlanta Open is in May every year. It's one of the biggest tournaments in the United States, and a lot of local players go to it and play in it. There are pros and amateurs there. You get to see the Tiger Woods of pickleball," says Anne Rheins, the NOT'lanta tournament director and one of four local ambassadors for the USA Pickleball Association.
(Yes, pickleball ambassadors are a thing. These volunteers are dedicated to the sport – a combination of tennis, badminton and ping pong – and promote it in their areas.)
NOT'lanta was organized in six weeks, drawing 98 people (mostly locals) to the courts. The outdoor venue allowed plenty of room for social distancing and safe play.
"We haven't had any covid outbreaks from pickleball, but we didn't promote it far and wide. We wanted to keep it safe because of covid. Pickleball news spreads fast, though, so we had some people from out of town," Rheins says. "It went really well, and we said we should do it every year."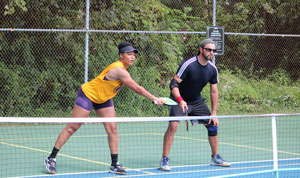 Holding Court
This year's NOT'lanta Open will be held May 14-16 on eight courts in Montclair, and organizers plan for it to be a permanent prelude to the Atlanta Open, which is scheduled for May 20-23 this year.
"A lot of NOT'lanta people play in the Atlanta Open. They consider it as a warmup week," Rheins says.
The round robin NOT'lanta tournament will include men's, women's and mixed doubles as well as men's and women's singles. Brackets will be based on age (16-59 or 60 and older) and skill level (novice – 4.5-plus). Each bracket will include a maximum of eight teams, and each team (or individual) will play one match against every other team (or individual) in the bracket. First-, second- and third-place winners will receive gold, silver and bronze medals.
The event also includes a Friday night social, "HOT OUTTA ATL," where tournament players can take part in noncompetitive open play with each other. "Open play helps people from out of town get familiar with the courts," says Rheins.
Music, drawings for door prizes and two food trucks – El Rey and Whipped Creamery – will be part of the social as well. Coolers also are welcome. For registered players only, the social caps off the evening after the competitive matches.
Rheins expects the number of participants to max out at about 150 because most people play in more than one bracket.
The deadline to register is May 9 (if the tournament isn't already full), and the registration fee is $40 plus $10 for each event. Proceeds from the tournament will go toward the purchase of lights for the courts.
Rheins says people like the intimacy of the smaller tournament. "It's a lot of people that you know. It's a real community," she says. "It's a friendly sport anyway, and people can watch every game."
The tournament could include a VIP lounge, aka the "Pickle Palace" decorated with a pickleball theme, in the form of a tent or possibly even an Airstream.
"People can buy a VIP pass and go there to drink pickle juice to keep from cramping," Rheins says. "We'll probably have a drink of the day and cold towels for the VIPs."
For many pickleball players, the sport is about fellowship as much as it is about competition. Rheins hopes to keep that spirit in play at the NOT'lanta Open.
"I want people to leave feeling like they had a good time and that this is a high-level tournament to play," she says. "I want them to make new friends and enjoy the camaraderie and the friendly competition. It's a great spectator sport. I like to watch other people play. Watching players at the 4.5 level is a thrill."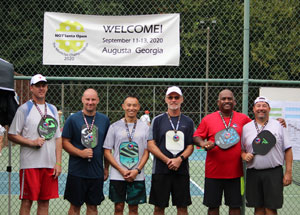 Not Just NOT'lanta
Montclair has 155 pickleball memberships, which includes residents of Richmond and Columbia counties. Yearly membership fees are $20 for neighborhood residents and $120 for nonresidents. The courts stay busy year-round – NOT'lanta Open or no NOT'lanta Open.
Rheins teaches free fundamentals classes to beginners, and other round robin tournaments and private lessons are available. Held twice a year, Zero-Zero-New is another popular event in which a coach is stationed at every court to help new players with fundamentals.
A host also is on duty to facilitate open play for members on Monday, Tuesday and Thursday evenings and weekday mornings. At the morning open play sessions Monday through Friday, different skill levels are scheduled on the courts at different times.
Not that hardcore picklers need still more reasons to play, but the holidays offer additional opportunities for them to pick up their paddles. Other Montclair pickleball festivities include the Thanksgiving Throwdown (the day after Turkey Day), the Holly Jolly Christmas Party and, of course, World Pickleball Day on October 10.
Occasions such as cookouts, Pig 'n' Pickle and Friday Night Lights come with a side of pickle as well.
"Pickleball is not prim and proper like tennis. It doesn't matter what you wear. It's a serious sport, but we still do fun things," says Rheins. "Anybody who's really athletic picks it up very quickly."
For more information about pickleball or the NOT'lanta Open, contact Rheins at (706) 399-4958 or arheins@gmail.com.
By Betsy Gilliland