Cyclists can get ready to roll in a casual bike ride to raise serious money for cancer research.
Cure cancer faster.
That's the mission of Paceline, a movement of communities and organizations that are striving toward that common goal.
Paceline also is an event – a casual, fun bike ride with a 25-mile, a 50-mile or a 100-mile route option for riders to raise money for cancer research at Georgia Cancer Center. PaceDay 2021 is set for Saturday, October 16, and riders will be sent off in waves from two locations.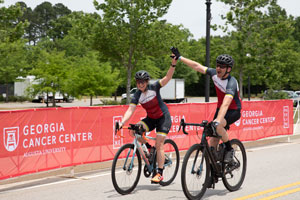 Cyclists on the 25-mile ride can start between 9 a.m. – 10 a.m. at Harlem High School. Riders on the 50- and 100-mile routes can begin between 7:45 a.m. – 8:45 a.m. at the Summerville campus of Augusta University.
All riders will finish at Columbia County Amphitheater, where entertainment will include food and beverages catered by Fat Man's and live music from 10 a.m. – 6 p.m.
"It's not a race, so people can take their time," says James Holmes, Paceline vice president and growth officer. "We have a lot of rest stops along the route. We have a lot of police presence and safety measures in place."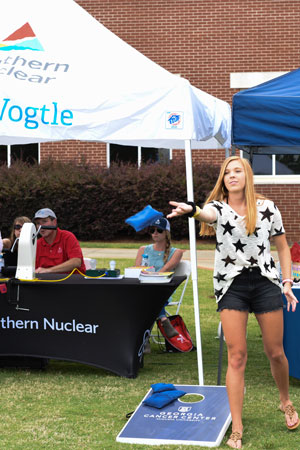 The name, Paceline, comes from a formation in which cyclists travel in a line closely behind each other to conserve energy by riding in the draft of the bikers in front. As a result, the group can travel at a faster rate than any of the riders could go alone.
The Paceline is a perfect analogy for the power of the event's grassroots effort to battle cancer, embodying the team concept and the idea of finding a cure faster together.
With the three different routes, Paceline is designed to accommodate cyclists of all skill levels. In addition, people do not have to ride a bike to be involved in the event.
An Unchained Paceliner can collect donations without riding. There is no registration fee and no required fundraising minimum for these participants. In addition, Holmes says, more than 300 volunteers are needed for the event.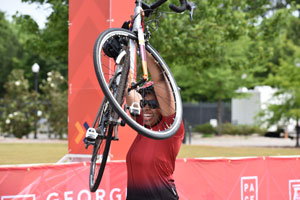 The registration fee for all general riders, regardless of the route chosen, is $100. For young adult riders ages 14-25, the registration fee is $60.