A former GreenJackets pitcher has become a highlight reel of postseason success for the San Francisco Giants.
It's an even-numbered year, so surely the San Francisco Giants – World Series champions in 2010, 2012 and 2014 – will wind up in the Fall Classic this year, right? (At press time, the National League team was battling for first place in the western division or a postseason berth in the wild card game.) 
Even numbers are not the only common denominator in the team's recent success, however. Left-handed pitcher Madison Bumgarner also has been an integral part of the Giants' postseason prowess, and he started his professional baseball career with the GreenJackets as an 18-year-old in 2008.
"Arguably, he's one of the best players to ever come through Augusta," says Tom Denlinger, the GreenJackets general manager.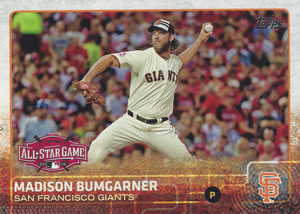 Selected by San Francisco as the 10th overall pick in the first round of the 2007 draft, Bumgarner signed with the team on August 15, 2007 after completing a stellar high school career. The Hudson, North Carolina native was Gatorade's North Carolina Player of the Year after a dominant senior season, going 11-2 with a 1.05 ERA and 143 strikeouts in 86.0 innings.
Bumgarner, who bats right-handed, was as effective at the plate as he was on the mound. He had a .424 batting average with 11 home runs and 38 RBI. He even finished his high school career by hitting a walk-off, two-run, inside-the-park home run to win the state title.
Major Impact on the Minor Leagues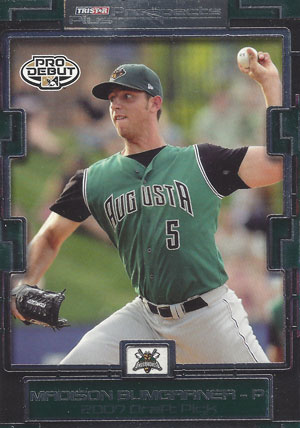 He showed his promise early during his lone season with GreenJackets, posting a 15-3 record in 24 starts. The lanky, 6'5" hurler helped lead the team to a record of 88-50 and the South Atlantic League Championship. His 15 wins, 1.46 ERA and 124 strikeouts led the league as well. 
The young pitcher had a dominating fastball, and when he was in Augusta, he worked on perfecting several other pitches. During the 2008 season, when the GreenJackets drew more than 200,000 fans to Lake Olmstead Stadium, Bumgarner had two different scoreless streaks of 22-1/3 innings and 38-1/3 innings. He was a five-time SAL pitcher of the week and a midseason and a postseason All-Star. He also won Minor League Baseball's Most Spectacular Pitcher Award. 
"With certain players that come through here, you know they are going to be great," Denlinger says. "Longtime fans have said that when Bumgarner came through, you knew he was going to do good things." 
He was inducted in the GreenJackets Hall of Fame in August of 2015, and the team gave away a Madison Bumgarner bobblehead – in a GreenJackets uniform, of course – that night. "That was our most popular giveaway last year," says Denlinger.
Postseason Power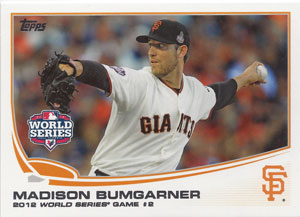 Bumgarner was called up to San Francisco in September of 2010 after spending almost two more full seasons in the minor leagues. He started five games and posted an ERA of 1.13 with the Giants that month. He also helped lead the team to a National League West Division Championship and a National League pennant. 
In the fourth game of the 2010 World Series against the Texas Rangers, Bumgarner pitched eight scoreless innings and became the fourth youngest pitcher to start and win a World Series game. His victory gave San Francisco a commanding 3-1 lead in the series and ultimately led to the Giants' first World Series Championship in 56 years.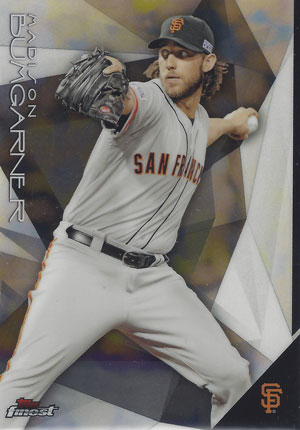 However, his most memorable postseason performance so far came in 2014 when the Giants defeated the Kansas City Royals in a thrilling seven-game series. Bumgarner was voted Series MVP after he won two games, had a series ERA of 0.43 and pitched five scoreless innings in relief to save the deciding seventh game. Earning the longest save in World Series history, he pitched on two days' rest after his complete game shutout in Game 5.
For the entire postseason, he compiled a 4-1 record, a 1.03 ERA on six earned runs allowed in 52-2/3 innings and 45 strikeouts. He also was the National League Championship Series MVP. 
The southpaw won the 2014 Babe Ruth Award, which is given annually to the MLB player with the best postseason performance. He was named the Sports Illustrated "Sportsman of the Year" and the Associated Press "Male Athlete of the Year" as well.
Bumgarner has been a National League All-Star four times (2013-16). He won the National League Silver Slugger Award, which goes to the best offensive player at each position, in 2014 and 2015 for being the best hitting pitcher in the majors. His superb fielding has yielded only 12 errors in his time in the majors. 
The 27-year-old pitcher is part of a long list of former GreenJackets who have made their mark in the major leagues. Others include Moises Alou, Tim Wakefield, Kevin Youkilis, Jon Lester, Jonathan Sanchez, Brian Wilson and Pablo Sandoval.
However, Bumgarner was more than just a fan favorite during his time in a GreenJackets uniform. He stands as a player that subsequent GreenJackets can try to emulate as well.
"It gives them something to strive for," Denlinger says of the pitcher's success. "You never know who the next Madison Bumgarner will be."
There is an old saying in baseball that says, "If you got it, you got it."  This former Augusta champion definitely has "got it."
By Lamar Garrard
Photos courtesy of Lamar Garrard