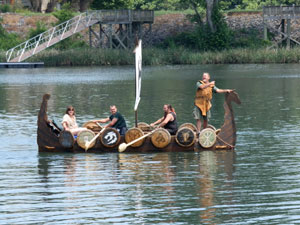 Paddle leisurely down the Savannah River in your favorite watercraft or vie for top honors in a homemade raft competition at the Big Float.
There are lots of ways to beat the August heat. However, Savannah Riverkeeper gives people the opportunity to cool off with 100 or so of their closest friends — with a little competition on the side as well — during the Big Float on August 26.
Kayaks, canoes, SUPs, inner tubes and homemade rafts are welcome on the 3.4-mile route. Prizes will be awarded in the homemade raft competition in categories such as Top Corporate Raft and Top Recycled Raft. Other awards will go to the most creative/well-executed raft and the most enthusiastic team (look for teams dressed up in themed costumes).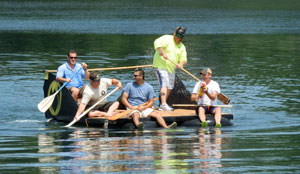 "We want to encourage people to enjoy the Savannah River and celebrate the end of summer with a fun and leisurely day on the water. All registration fees directly support our efforts to protect the Savannah River," says Elena Richards, the Savannah Riverkeeper communications director. "If you've never been on the river before, it's a great opportunity to do that. We have an expert safety team, and it's a fun way to cool off and enjoy yourself." 
The launch will begin at 9 a.m. at the Hammond's Ferry boat ramp in North Augusta and end at 105 Riverfront Drive, Augusta. Participants can drop off their vessels at the boat ramp between 7:30-8:30 a.m. and drive their vehicles to the office. A shuttle will take them back to the launch point. 
All participants must have a lifejacket, water, and a paddle or oar, including tube riders. "It's a completely flat-water route," says Richards. "Everyone needs to have a paddle so they will have a way to move if there's not much current."
An after party with local and regional craft beers, food trucks and live music will be held at the new Savannah Riverkeeper headquarters at 328 Riverfront Drive, Augusta. Spectators also can watch the rafts go by from the Riverwalk– the pavilion at 10th Street offers a great vantage point about 10-11 a.m.
If You Go: 
What: The Big Float
When: 9 a.m. – 2 p.m. Saturday, August 26 
Where: Hammond's Ferry Boat Ramp, North Augusta
How Much: $30 and up
More Info: savannahriverkeeper.org