May is National Bike Month, but cycling is big in this area all year-round
For most people, riding bikes is just plain fun – a reminder of carefree childhood days that were full of endless possibilities for adventure. Better done with friends and family. But in the age of coronavirus outbreaks and social distancing, biking also can be done alone to get some exercise or to clear your mind.
In this area, however, cycling (at least under normal circumstances) is more than an outlet for physical and mental well-being. It is big business that attracts out-of-towners to ride local trails or to participate in cycling events.
"We have a lot of outdoor resources, but cycling is probably our number one asset when it comes to attracting visitors to the area," says John Luton, director of the Columbia County Department of Community & Leisure Services. "Augusta has hosted several cycling events, and we have partnered with them to host events here."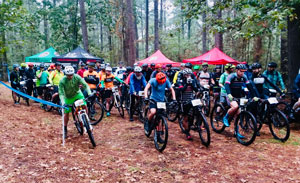 An Economic Driver
USA Cycling events held in the area from 2017 – 2019 had an estimated economic impact of $183,000 on Columbia County, according to Shelly Blackburn, Columbia County Convention & Visitors Bureau executive director.
Last year's Paceline had an estimated economic impact of $83,000 on the county. (This fundraiser for cancer research at Georgia Cancer Center normally is held in May, but it has been postponed until a later date this year.) These figures do not include the additional impact on surrounding communities, Blackburn says.
According to the Augusta Sports Council website, the estimated economic impact for the 2017 USA Cycling Masters Road National Championships, which took place in downtown Augusta, Fort Gordon and J. Strom Thurmond Dam in Columbia County, was more than $2 million. The estimated economic impact of the 2107 Ironman 70.3 Augusta was $4.7 million, and the triathlon, which includes a 56-mile bike ride, has generated more than $20 million in economic impact to the city since the inception of the triathlon in 2009, the Sports Council website says. In addition, the IRONMAN Foundation has awarded $143,943 in grant funding to 130 non-profit organizations to date in the region.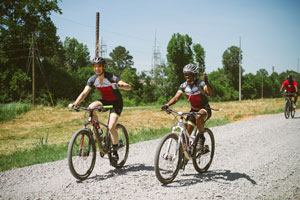 "Augusta is considered a hotbed of cycling, and USA Cycling loves to bring events here because of its relationship with Augusta Sports Council and Fort Gordon," says avid cyclist and Evans resident Randy DuTeau, who founded Wheel Movement CSRA and is a board member of Georgia Bikes.
Wheel Movement CSRA is nonprofit bicycle advocacy group for Columbia, Richmond and Aiken counties, and Georgia Bikes is a nonprofit organization that improves biking conditions and promotes the sport throughout the state.
DuTeau, who works in sports tourism, estimates that each person who comes to the area for a cycling event has an economic impact of $300 to $500. "Cycling is a huge economic driver for this area, and we need to continue to support it," he says.
Other competitive cycling events that have been held in the area include the 2015 and 2016 USA Cycling Marathon Mountain Bike National Championships at Wildwood Park and the USA Cycling Collegiate Road National Championships in downtown Augusta and Fort Gordon. This event, which was held here last year and was scheduled for May 8-10, was cancelled this year because of coronavirus concerns. However, says DuTeau, five sets of Collegiate Nationals have been held here since 1994.
In addition to Paceline, fundraising cycling events include Lock to Lock, which benefits local cycling advocacy efforts, and Flow Master, which raise funds to maintain the Forks Area Trail System (FATS) in Sumter National Forest in South Carolina. The annual Best Dam Ride Ever supports Augusta Urban Ministries, the CSRA chapter of the Southern Off Road Bicycle Association and the Liam Caracci Foundation.
"When people come to these events, they are spending money for hotel rooms and food," says Phil Cohen, owner of Chain Reaction Bicycles in Evans. "It's not like Masters Week, but altogether, they're really significant."
With 37 miles of single- and double-track trails, FATS has made this area a mountain biking mecca.
"FATS is a destination trail. IMBA (International Mountain Biking Association) has designated it as an epic trail – the highest designation," says Cohen. "When it was designated, there were only 10 epic trails in the whole country, so that put the area on the map for mountain biking."
Drew Jordan, owner of Andy Jordan's Bicycle Warehouse, agrees. "It's the crown jewel for the CSRA. We have people come from all over the world to ride it," he says of FATS. "We also have great road riding here. From downtown Augusta, you can be out in the country in 15 minutes. We have another 100 miles of mountain bike trails besides FATS."
Other mountain bike destinations include the Augusta Canal path; Wine Creek; Bartram Trail, which is a good beginner trail along Clarks Hill Lake; and trails at Mistletoe and Hickory Knob state parks. The North Augusta Greeneway; Phinizy Swamp; Range Road, a hilly, challenging course at Fort Gordon; and the Evans to Locks path, which extends from Evans Towne Center Park to Savannah Rapids Pavilion, are popular biking locations as well.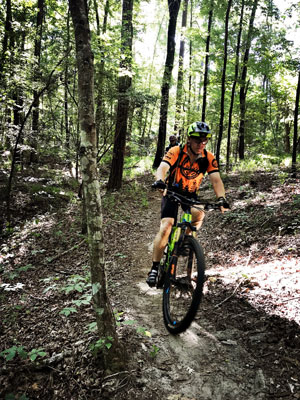 In addition, Phase I of the Euchee Creek Greenway – a series of off-street bikeways, walkways and trails in Columbia County – is nearing completion. The almost $8.6 million project, which was part of the 2016 general obligation bond, includes two segments – a 2.4-mile trail that connects Riverwood Plantation with Blanchard Woods Park and a 6-mile trail that connects Canterbury Farms subdivision with Patriots Park.
A mix of public grants and private donations is anticipated to fund future phases of the greenway, which will include 27 miles of multi-use paths from the city of Grovetown to the south to the Savannah River to the north.
"We have trails that beginners can ride, and experts can have fun on them as well," Cohen says.
In addition, SORBA-CSRA co-president and Martinez resident Angela Allen, says, "We have year-round riding here, so this is an awesome destination for cycling."
SORBA-CSRA is a volunteer, non-profit organization that promotes trail preservation and development as well as riding for mountain bikers. The CSRA chapter, which celebrated its 20th anniversary in 2019, works with Mistletoe State Park, the U.S. Forest Service and Augusta Canal Authority to maintain about 150 miles of trails in the area.
"Trails are beneficial to Columbia County for many reasons, but mostly they help to create and maintain a great quality of life. While trail systems are a tremendous recreational asset for our citizens, they also attract visitors. These visitors spend money on lodging, food and beverages, arts and culture, recreation, retail and more, which ultimately support local businesses and jobs," says Blackburn.
At Your Service
Those businesses and jobs include local bike shops like Chain Reaction Bicycles, Andy Jordan's Bicycle Warehouse, Outspokin' Bicycles and The Bike Peddler.
"Local bike shops serve the community year-round," says Cohen. "They hire people and spend money in our market."
He says cyclists fall into three categories – road cyclists, who ride hard and fast; mountain bikers, who ride off-road; and recreational bikers. "They're not into going fast or jumping over rocks," Cohen says. "They just want to have fun with their families."
The area bike shops cater to all types of riders. In addition to the sale of bicycles and bike accessories, they offer repairs and tune-ups, fitting services and workshops on topics ranging from basic bicycle repairs to road etiquette. The bike shops normally hold group rides several times a week as well, but these events have been suspended because of social distancing efforts.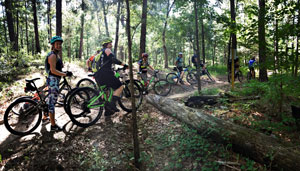 Chain Reaction also refurbishes about 500 used bicycles a year and donates them to Augusta Urban Ministries, which provides the bicycles to individuals who use them as their primary mode of transportation.
The Bicycle Peddler, which offers bike rentals, the sale of bicycle accessories and bicycle repairs, has a contract with Columbia County to operate at Savannah Rapids Pavilion.
The county also has a dozen B-cycles that are available for rent through a self-service system at Evans Towne Center Park, and Luton says people primarily use them to ride around the Evans Towne Center area. "We hope they will take off when we can add other hubs at other parks," he says. "We will have additional bike stations, but we haven't had a chance to build on it."
Have Fun, Get Fit
According to the 2018 Georgia Bikes Bicycle Safety Action Plan, bicycle friendly communities enjoy higher property values, more tourism revenue and improved public health. Routine, daily exercise like bicycling is a proven strategy to decrease a community's rates of chronic diseases like heart disease and diabetes.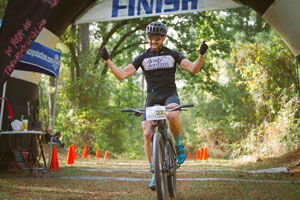 "Biking is getting bigger and bigger in our area," says Allen. "It really has grown exponentially through the years, and it is fantastic exercise."
As a non-weight bearing exercise, Cohen says, it is easier on the body than some activities. "If biking is something people enjoy, they stick with it," he adds.
Brett Ardrey, owner of Outspokin' Bicycles, calls cycling a great cardiovascular exercise that also offers social benefits such as the opportunity to meet new people and learn about new places around town.
For some area cyclists, however, biking is more than a way to exercise. "Doctors, lawyers and bankers ride to work every day," says Ardrey. "They can park closer to their office or in their office. Medical people can go right up to their door instead of having to park so far away."
Sam May, manager of The Bicycle Peddler, sees people commute through Savannah Rapids to work downtown. "When they do that, they get their 30 minutes of exercise a day," he says.
He has one customer who lost more than 150 pounds by bicycling.
"Augusta is a good place to get into cycling," Jordan says. "The cycling community here is welcoming, nice and helpful to all skill levels. You don't have to wear spandex and be super-fit to ride a bike."
Co-Existing with Motorists
Despite all the benefits of cycling, however, the 2018 Georgia Bikes Bicycle Safety Action Plan says that bicyclist and pedestrian fatalities have been on the rise for the past several years. As a result, the Action Plan calls safety the most urgent issue related to bicycling in Georgia.
"Cyclists are allowed to be on the road," says DuTeau. "There needs to be better interaction between motorists and cyclists, and it's not always easy because people are distracted. Cyclists need to be accountable, too. We have to pay attention and follow the rules of the road. We have to obey laws, use signals and be smart."
With so many vehicles on the road, Cohen says, areas where cyclists used to ride are almost impossible to ride now. "Even if cyclists are doing everything right," he says, "if a car hits them, the cyclists lose."
Ardrey says cyclists can educate themselves by going online and accessing the Georgia Bicycle Law Enforcement Pocket Guide, which explains bicycle traffic laws.
"As long as we can educate cyclists that they should ride like a vehicle, we get more respect from cars," he says.
Jordan believes cyclists and motorists are co-existing better because people are becoming more educated.
"It always requires a little diligence on the bicyclists' part – choosing when and where to ride, wearing bright colors and having flashing lights," he says. "Drivers texting is the biggest problem, probably more than aggressive driving."
In addition, Jordan says, cyclists always should wear a helmet. Some helmets even have built-in technology that triggers an alarm on a cyclist's phone to send his location to a designated emergency contact if he falls and hits his head.
"With more bike lanes and more safe places to ride, more people will ride," Cohen says. "Nationwide, the number one reason people don't ride is that they don't have a safe place to ride. Biking is strong in our area because we have safe places to ride. It adds to the quality of our life and makes this a great place to live."
By Todd Beck