A local high school fishing team is schooling its competition with its success. 
Some people might think of fishing as a relaxing sport. Don't tell that to the members of the Clarks Hill Youth Fishing Team, however. They thrive on competing against other high school fishing teams across the state. 
The Clarks Hill team includes anglers from eight to 10 middle and high schools in areas including Columbia, Richmond and Burke counties, Lincolnton and Watkinsville. With one fifth grader on the team this year, their ages range from 10 to 18. 
"The team will take any kids that are not affiliated with a school team," says Christy Gonsalves, team mom and executive. "We'll take them from as far away as they're willing to drive."
Anglers have to try out for the team, and they must demonstrate certain skill sets including casting skills, the ability to tie a palomar knot and a fisherman's knot and the ability to use a trolling motor on a boat. 
"We have a large group that loves fishing, and they're really good at it," says Gonsalves. "We're in a great area for fishing."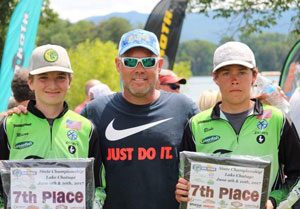 Team member Logan Plueger, 14, a ninth-grader at Grovetown High School, started fishing at Clarks Hill Lake with his grandmother when he was 2 years old.
"I like trying to figure out how I'm going to catch the fish," says Plueger, who has been on the team for three years. "I try to look at the patterns that the fish are biting and the baits that they're biting. Some of the fish are easier to catch than others. Bass are harder to catch."
Seasoned Champions
The season, which started in mid-September, runs through June. Tournaments typically begin at first light on Saturdays, and weigh-ins are at 3 or 4 p.m. "They stay on the boat all day," Gonsalves says. "The boys get to travel all over Georgia and see different lakes."
Each vessel consists of two anglers and a boat captain, and 140-plus pairs of fishermen compete in each event. They fish for largemouth, smallmouth and spotted bass, and the competitions are strictly catch-and-release.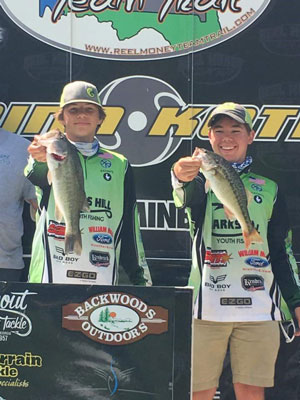 Members of the fishing club compete in local, regional and national tournaments, including the Border Bass at Clarks Hill Lake in December. The Clarks Hill team, which was started five years ago, has had success on all levels of competition.
In April, for instance, the team won first place at the Georgia Bass Youth Top 6 State Championship on Lake Blackshear for the third year in a row. Team member Blake Stephenson took first place and caught the big fish; second place finisher Mason Peace also caught the No. 2 big fish; Evan Gonsalves came in fourth individually.
In June Peace and Stephenson finished seventh in the BASS Nation High School Fishing Classic at Lake Chatuge in Hiawassee, Georgia. They also qualified for the Costa Bassmaster High School National Championship on Kentucky Lake in Paris, Tennessee later that month. In fact, the club has sent two anglers to nationals four times.
Giving Back
Through tournament fishing, high school students can earn college scholarships and learn sportsmanship. High school teams also are required to do a conservation project each year. Last year, the Clarks Hill team made a fish habitat out of piping and dropped it in Clarks Hill Lake just off the new dock at Wildwood Park.
"There is so much they can get out of it," says Gonsalves. "They learn patience and determination. They develop an appreciation and respect for the sport of fishing. They're not just a fishing team. They give back to the community."
Clarks Hill team members volunteer at the spring and fall Fish for Life Foundation fishing rodeos and at the fall Paralyzed Veterans of America tournament. They also help with the annual Toys for Tots holiday campaign.
"They go to Walmart, and each angler grabs a buggy and goes shopping for Toys for Tots," says Gonsalves. "They get so excited about buying toys for kids they will never meet."
Plueger enjoys shopping for others. "I get to help people and see how that affects their everyday lives," he says. 
In addition to Plueger, Stephenson, Peace and Gonsalves, the 2017-18 team members are Nick Adams, Caleb Barrow, Brayden Batchelor, Logan Dixon, Fisher Faulkner, Gavin Gilbert, Jarvis Harden, Micah Holliman, Colton Hunt, Cole Langford, Caleb Medders, Cody Reeves, Dalton Reeves, Caleb Vakoc, Evan Vakoc, Corey Haden, Chris Shay and Kyle Salazar.
By Todd Beck