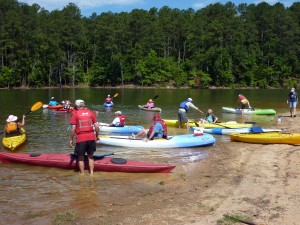 A new all-day, family friendly festival offers opportunities to play at the lake. 
New events never get old, and the inaugural Western South Carolina BlueWay Festival at Baker Creek State Park on Saturday, June 2 is the perfect way to kick off summer with land and water sport activities.
Local residents Tom Greene and Howard Lauderback, along with Savannah Lakes Village Outdoor Adventure Club members, are the masterminds behind the event, which is designed to showcase the local waterways and outdoor resources in the area. After all, Savannah Lakes Village in McCormick, South Carolina is bordered by 63,368 acres of protected land (including three state parks and Sumter National Forest), the 71,100-acre Clarks Hill Lake and the Little River Blueway Outdoor Adventure Region. 
"We hope people will enjoy a day at the lake with outdoor activities and try things they never thought to do before," says Linda McClintock, who is handling marketing for the event.
Clinics and demonstrations will be held from 11 a.m. – 4 p.m. and include kayaking, disc golf, fishing, geocaching, biking, standup paddle boarding and boating. Those who want a little competition can test their skills in a disc golf contest, kayak rodeos, horseshoes, corn hole and volleyball. 
If you like a good deal, then play your cards right at a poker run on Little River from 3:30 – 5 p.m. There is a $5 entry fee, and 100 percent of the fees will be distributed back to the winning hands.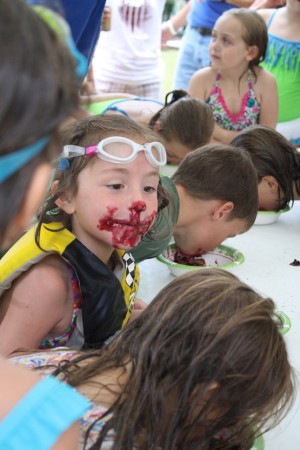 The kayak rodeo includes activities such as lassoing big "ducks" and tossing hula hoops onto a blowup cow. The festival also will feature a working dog demonstration, paddle board yoga, gun safety and updates about Savannah Valley Rails to Trails.
The proposed 35-mile trail project, which follows the late 1880s road bed of the old C&WC Railroad from Charleston to Anderson, South Carolina, is located in a scenic vegetated area along the Savannah River and the Little River area. Ultimately, the trail, which will be developed in four phases, will connect Calhoun Falls in Abbeville County to McCormick in McCormick County and Baker Creek, Hickory Knob and Calhoun Falls state parks.
A kids' fun zone will include games, face painting, temporary tattoos, visor decorating and a pie-eating contest.
Food vendors will offer barbecue, hamburgers, hot dogs, sausages, fried fish, funnel cakes and more. Three bands will provide musical entertainment throughout the day, and festival sponsors will raffle off prizes such as a kayak during the event.
Tickets, which include parking, are available online. They also can be purchased at the Chamber of Commerce, Red Rooster, MACK, Pack Rat and Lee Builders in McCormick and at Plum Branch Yacht Club. Tickets are limited, so people are encouraged to buy them in advance.
"We are excited about this festival and hope that everyone will come and have a great time," Linda says.
If You Go:
What: Western South Carolina BlueWay Festival 
When: 10 a.m. – 8 p.m. Saturday, June 2
Where: Baker Creek State Park, 386 Baker Creek Road, McCormick, South Carolina
How Much: $10 each or $20 family (two adults and children under age 18) in advance; $15 each and $25 family day of the event
More Info: bluewayfestival.com