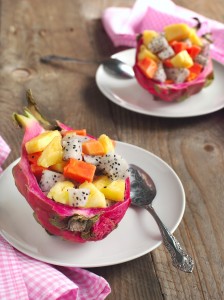 2 dragon fruit
1 cup fresh papaya chunks
1 cup fresh pineapple chunks
Cut the dragon fruit in half and loosen the meat from the skin by running a spoon along the edge and scooping it out as one piece. (Keep the hollow skin halves for serving the salad.) Dice it up, toss with pineapple and papaya chunks and place back into the hollow halves. Serve chilled. Makes 4 servings.