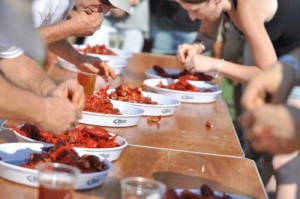 If you're craving crawfish, then hightail it to the area's only French Quarter-inspired festival.
There are plenty of ways to kick off your summer fun, but it's hard to top the eighth annual Mudbugabeaux-N-Brew festival. Even the name makes you smile.
The crawfish boil will include a crawfish-eating contest – of course, local live bands, a free commemorative T-shirt for the first 1,000 visitors, children's activities and more. The festival also will feature craft and domestic beer, but the focus definitely is on the crawfish.
"We want people to learn more about crawfish. We cook them live on-site," says Jim Beck, owner of French Market Grille West, which puts on the event. "There are lots of craft beer festivals, but we want to do something different. This is the last time to have an event before it gets too hot to have an outdoor summer festival."
Other Cajun and Creole dishes such as jambalaya and muffuletta sandwiches also will be available. All-American favorites such as corndogs and lemonade will be on the menu as well. In addition, a variety of vendors, ranging from car dealerships to outdoor sporting goods stores, will have booths at the family friendly festival.
If You Go:
What: Mudbugabeaux-N-Brew Festival
When: 3 p.m. – 9 p.m. Saturday, June 4
Where: Augusta Commons
How Much: $5 
More Info: frenchmarketwest.com