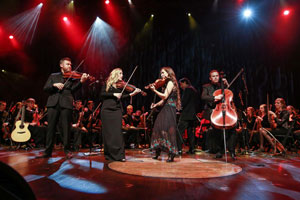 Iconic music from the '70s, along with a Christmas show, will fill up your senses at the Jabez. 
From tribute artists to Christmas tunes, the Hardin Performing Arts Center will be stayin' alive with music this month when a quartet of musical groups comes to Evans. 
The first of the four – Bee Gees Gold, The Tribute – is scheduled for Friday, November 2. With the detailed vocal stylings of John Acosta (Barry), Daryl Borges (Robin) and Jeff Celentano (Maurice) as the brothers Gibb, the trio will recreate the look and sound of the Bee Gees with hits like "Massachusetts," "I Started a Joke," "Stayin' Alive" and "You Should Be Dancing." Tickets are $39.50. 
The John Denver Musical Tribute with Ted Vigel is slated for Friday, November 9. Vigel won a celebrity look-alike contest in 2007 when he appeared as Denver, and afterward started planning a tribute show to the music icon. From 2010 to 2014, he toured with Denver's lead guitar player, the late Steve Weisberg. "It was like working with John again," Weisberg said at the time. Tickets are $39.50.
Live and Let Die, a Tribute to Paul McCartney featuring Tony Kishman will take place Friday, November 16. Kishman starred in the national and international tours of Broadway's smash hit, "Beatlemania," for years, and he also performs in the International Symphonic Beatles production, "Classical Mystery Tour." Tickets are $44.50.
Finally, the Annie Moses Band will perform a blend of folk and classical music in its Christmas-themed show Wednesday, November 28. The band, made up of musicians from the same family, call their style "chamber pop," a blend of classical, jazz and pop, mixed with some good, old-fashioned country. Tickets are $49. 
All concerts will begin at 7:30 p.m. at the Jabez S. Hardin Performing Arts Center. Dinner reservations also can be made for a meal at the center before each show. For more information or to order tickets, visit augustaamusements.com or call (706) 726-0366.