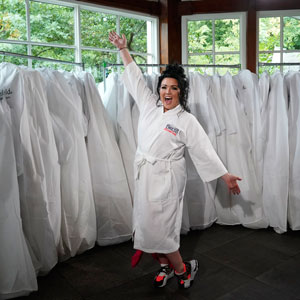 An Evans bride kicks off the season premiere of TLC's new series, "Say Yes to the Dress: America."
When Evans residents Katie Kinson and Aaron Jeter got married last summer, they forged a bond for life. However, they also created a lasting connection with 51 other couples at the same time.
Katie and Aaron tied the knot as part of a "Say Yes to the Dress: America" wedding spectacular in which a couple from every state, Washington, D.C., and Puerto Rico got married in a joint ceremony in New York City's Central Park. With 10 shows this season, which premieres January 4 at 8 p.m., The TLC series will focus on a bride from a different state in each program. Katie is the featured bride in the premiere episode.
"I'm a Georgia peach. I'm so Southern, and I felt like I would be a good representative of Georgia and make my state proud," says Katie. "And I wanted to be part of history. This was the largest wedding ceremony ever in Central Park."
She says that being on the reality TV show was a childhood dream come true. She and her mom, Edie Kinson, used to pop popcorn and watch the program together every week. "After I met Aaron, I made him watch the show with me, too," Katie says.
'Out-of-Body Experience'
Katie applied to be part of "Say Yes" on the TLC website, submitting a video of Aaron and herself in February. The couple met at Fort Gordon, where Aaron serves in the U.S. Air Force and Katie works at the U.S. Army Cyber Command. She says Aaron was all in when she told him she had applied to be on the show.
"He didn't think twice about it when I told him we were finalists and a crew was coming to the house," says Katie. "He's an adventurist like I am."
During the first week in April, Katie received a casting call from the show asking if she was available to meet with the TLC camera crew as part of an audition. The crew came to her house the Monday of Masters Week, and while she was being interviewed, the doorbell rang. Unbeknownst to Katie, bridal designer and "Say Yes to the Dress" host Randy Fenoli was at the door to tell her that she had been selected for the show.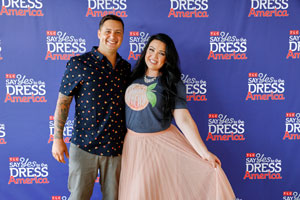 "My reaction was huge. I was screaming," Katie says. "I had an out-of-body experience. When Randy rang the doorbell, my fiancé went to answer the door. I honestly did not think Randy would be there. I screamed, 'Oh, my God!' I jumped up and down."
Randy spent the day with Katie and her family. He met her grandmother, Barbara Kearse, and her mother, and they took him on a tour of the area. Katie was coy about the places they visited, however.
"People will have to tune in to the show to see all the fun things we did with Randy," she says. "We did have some of my mama's sweet tea, though, and Randy loved it."
At the end of May, Katie went to New York City with her mother; her best friend, Ashley Dodgen; and her cousin, Amanda Holsonback, to shop at Kleinfeld Bridal for her dress. Each bride received an all-expense paid trip to New York City to shop at the world-famous, Manhattan-based salon, which gave a wedding dress from a curated selection to all of the brides.
"I had the most amazing experience. I felt like the only bride in the world," Katie says. "I had seen the magic of shopping at Kleinfeld on TV, and I really wanted the experience of finding my dream gown there."
The Southern belle, who rides dirt bikes and drives a huge truck, knew exactly the type of wedding dress she wanted. "I wanted a big ball gown, and that's what I got," says Katie. In fact, she told the camera, "I am looking for the biggest, baddest wedding dress there is, and I want lots of bling."
All Together Now
Katie returned to New York with Aaron for the July 10 group wedding by Bethesda Fountain in Central Park. She met the other brides for the first time the day before the wedding when they got their dresses altered a final time.
"The 10 girls tried on our dresses together, and we were so excited to see each other's dresses," Katie says. "We started a group chat on our phones, and we still keep in touch."
At the wedding ceremony, which Randy officiated, all of the couples said, "I do," in unison. However, they walked down the aisle individually. Randy introduced each bride by name and state before she descended the flight of stairs leading to Bethesda Fountain and met her husband-to-be at the bottom of the stairway.
The festivities also included a pre-wedding party and a reception. Bridal designer Hayley Paige helped plan the wedding and served as "America's bridesmaid."
"I loved it. Immediately when I met the other brides, we all connected and formed friendships. The grooms did as well," Katie says. "The wedding was as magical as ever — I didn't mind sharing my special day because it was such a unique way to get married, and I felt like I was part of history."
After the wedding the couples lingered in Central Park, taking pictures and mingling with family members and friends who came to the wedding. Katie's mother and father, Kirk Kinson; her brother, Joel, and his girlfriend, Alexis Senesac; and two friends attended the ceremony.
A reception with champagne and cake at Central Park's Loeb Boathouse followed the nuptials. The cake, which was made by Buddy Valastro of TLC's "Cake Boss," had tiers of different flavors.
Nervous, but Excited
Katie and Aaron dated for three years before he proposed in 2018 at sundown on Independence Day, his favorite holiday. He asked her to marry him at her parents' Appling home underneath a cherry blossom tree that Katie's late grandfather, Clyde Head, planted. When Katie said "yes" to Aaron, her father and brother shot off fireworks in a nearby field.
The couple plans to have a local reception later this year. "I would love to wear my dress again to celebrate with friends and family, but I already had my dream wedding," says Katie. "It's hard to top walking down the grand staircase in Central Park."
In addition, they will hold a small watch party at her parents' house with close family members and friends to view the show. "I'm nervous to see myself on TV, but I'm excited," Katie says.
Katie, who diagnosed with schleroderma at age 14, is grateful for the opportunity to share her story and to raise awareness about the rare autoimmune disease that causes hardening and tightening of the skin and connective tissues.
"I want to send a message to other women who have schleroderma that they're not alone," she says. "It's such a rare disease, and it affects every part of your life physically, emotionally and mentally."
She has had multiple surgeries, and she has scarring on her body and face. She also experiences joint pain and muscle fatigue. Nevertheless, she maintains an upbeat attitude.
Katie is looking forward to watching the entire season of "Say Yes to the Dress: America," including the wedding episode that tentatively is scheduled to air 8 p.m. – 10 p.m. March 14.
"Everyone has a great story to tell," she says. "I know that America is going to fall in love with all of these girls."
By Sarah James