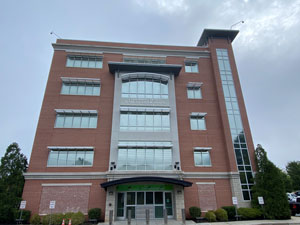 Improvements to government facilities enhance services for residents.
Columbia County prides itself on its responsiveness to constituents, and efforts are underway to make that relationship even stronger.
For instance, the county is making $3 million in improvements to the Justice Center Annex, the former TaxSlayer building that the county purchased in 2020 for $6.5 million, on Evans Town Center Boulevard. The improvements include the addition of a courtroom, primarily for juvenile proceedings, which county officials hope to finish by the end of the year.
In addition to juvenile court, the annex houses offices for the district attorney and public defender as well as the Community Services Division.
"Once we finish that, then we can move to the Justice Center. We have the design done and the funding in place," says Scott Johnson, the county manager.
The $17.4 million improvements to the Justice Center include the addition of a new wing to house three or four courtrooms, the expansion of office space and additional space for the Sheriff's Office.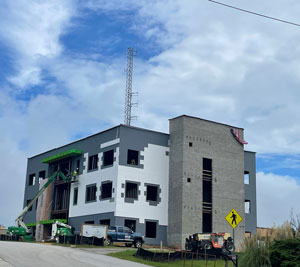 Construction continues on the $7.68 million Sheriff's Office Administrative Building, and the project, which is financed by 2017-22 SPLOST monies, is expected to be completed by late 2022 or early 2023.
"Right now it's on time and on budget," says Johnson.
The three-story, 27,000-square-foot building is located next to the detention center on County Camp Road in Appling, and it will house the investigations and interviews divisions, office space, and clerical and administrative support.
Wayfinding signs have been installed countywide to direct visitors and residents to local amenities and landmarks.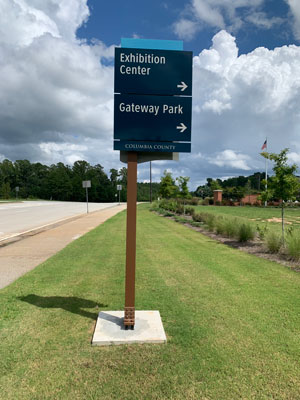 "More signs are coming," says Scott Sterling, the Planning Services director.
In Grovetown, says Ronald Kurtz, the city's director of Planning and Community Development, officials plan for the future by making sure it has the proper infrastructure in place to accommodate growth. For instance, a $25 million project to expand the wastewater treatment facility for coming needs was completed earlier this year.
Currently, the plant is processing 1.2 million to 1.6 million gallons of water per day, but it has the capacity to treat 3 million gallons of water daily. The project, which began in 2016, also included the installation of additional pipes.
The plant processes 100% of the water within the city limits as well as water in surrounding areas, Kurtz says.