A 12-year-old Evans resident is part of the elite 18-player roster to represent Team USA in the Baseball World Cup in Taiwan.
It seems like Greenbrier Middle School seventh grader Colin Anderson constantly has to adjust his goals. His latest? To bring back a gold medal for the United States from the World Baseball Softball Confederation (WBSC) U-12 Baseball World Cup in Tainan, Taiwan.
Colin was named by USA Baseball to the 18-player roster for the 2022 12U National Team on July 1. When he found out he made the team, he says, "I just started crying because that was a big goal."
Even if he hadn't made the team, however, Colin, 12, who plays travel baseball year-round for the Savannah-based Next Level Prospects, already was in select company.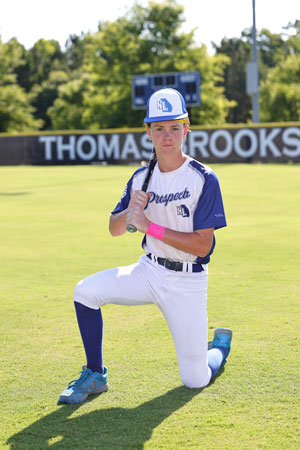 After competing in the Futures Invitational in June with hundreds of other players in Cary, North Carolina, he was one of only 36 players nationwide to be invited to the 2022 USA Baseball 12U National Team Trials, also in Cary, from June 27 – July 1.
"Originally, I just went there to try to make the top 36," says Colin. "Once I got invited to the top 36, I got really excited."
'A Great Experience'
The 12U National Team will be one of a dozen teams from around the globe to compete in the Baseball World Cup July 29 – August 7.
One group of teams includes the United States, Guam, Dominican Republic, Korea, Japan and the Czech Republic.
The other group is made up of Chinese Taipei (the home team and defending world champions), Mexico, Venezuela, Italy, South Africa and Panama.
Team USA opened its World Cup schedule on Friday, July 29 against the Czech Republic.
"The games are being streamed on the WBSC YouTube channel, and they also will be picked up by ABC or CBS," says Colin's mother, Bree Anderson.
Colin, who started playing baseball when he was 5 years old, is excited about the opportunity to represent the United States in the Baseball World Cup.
"I have no words. The best thing in baseball is to represent your country," he says. "It's a great experience for me to play on television like the MLB players do, and it's great to meet the other players."
They have had ample opportunity to bond with each other as Team USA traveled to Stockton, California, for training on July 19 before leaving for Taiwan on July 23. Nine states are represented on the team, and Colin is the only player from Georgia on the roster.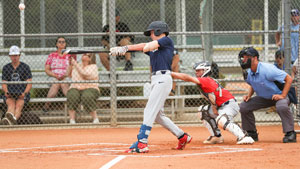 Before he left town, he said he was looking forward to "the experience, the people I get to meet and playing in a bigger tournament than usual. Being on TV in general is cool, especially when you're 12."
Although Colin, who bats and throws right-handed, plays primarily first base and third base for the Prospects, he likely will play centerfield for Team USA.
"When balls get hit to the gap, you get to dive to get them," he says of the outfield position.
He likes playing third base as well. "I have a really good glove and good hands," says Colin, who made the All-State team in Georgia last year. "You get to jump and catch."
He brings much more than his defensive skills to the team, however.
"He's a big hitter," says Bree.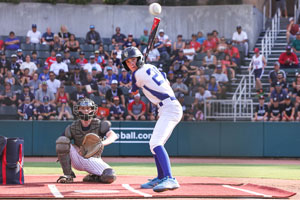 After all, with a batting average of .544, according to his PerfectGame.org profile, it's not surprising that he's happiest when he's standing at home plate with a bat in his hands.
(Perfect Game is the premier provider of amateur baseball events, hosting the highest quality travel team tournaments and individual showcase events throughout the country. PG collaborates with Major League Baseball and other baseball partners to grow the game, and its database, scouting reports and player rankings are a valuable resource for college coaches and MLB scouts.)
"Hitting is probably my favorite," says Colin. "When you're fielding and there are two outs in the bottom of the eighth or ninth (inning), there's less pressure on making a play than hitting."
Sweat Equity
Colin has had plenty of support in his young baseball career, but playing for a Savannah-based team hasn't always been easy.
"My parents are super nice and great, and they take me to mandatory practices and games," he says.
His mom and dad aren't the only ones who have pitched in to help him succeed, however. His friends are rooting for him as well.
"They're excited for me to go play and represent my country across the whole world," he says.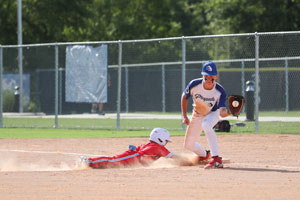 Colin also is invested in the budding baseball careers of his two younger brothers, ages 5 and 8. "One of my goals is for them to be as good or better than me," he says.
"There's been a lot of sweat from all of us," Bree says. "But it's been totally worth it."
Perhaps that sweat equity will pay off in the medal games on August 7 when Colin hopes Team USA will play for – and win – the gold medal. He also hopes to get better at the sport itself so he can achieve yet another goal of playing Major League Baseball one day.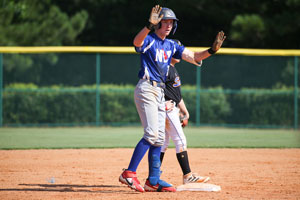 "The game is super fun and amazing, and the people you meet help you achieve bigger goals in your life," says Colin.
In the meantime, though, he has other things on his plate with the rare opportunity to compete for a world championship.
The Baseball World Cup takes place every two years, but this is a makeup year from 2021 because of covid. This is the sixth edition of the youth baseball world championship, and the United States, winning consecutive gold medals in 2013, 2015 and 2017, has a world-best three titles at the U-12 level.
By Todd Beck