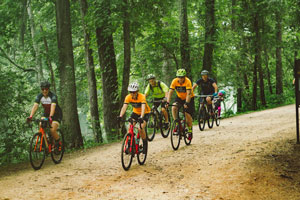 It's time to get it in gear for the annual Kroc to Lock Ride on Sunday, May 21 from noon until 4 p.m.
The 10-mile ride starts at Kroc Augusta, proceeds up the Augusta Canal towpath to the headgates and then heads back to the Kroc green space for a post-ride picnic. The menu features grilled hot dogs, drinks and Pelican's SnoBalls. Matt the Mod also will be on hand for a live DJ set.
The cost is $35, and 100% of the net proceeds will benefit the Augusta Canal National Heritage Area and future biking projects.
The registration deadline is Monday, May 15; no onsite registration will be available. For more information, visit andyjordans.com or bikesignup.com.