Pristine beaches, untouched wilderness and historic ruins make Georgia's largest barrier island an idyllic spot for a day trip – or more.
Rich in history and scenic beauty, Cumberland Island is one of the most spectacular natural habitats in the Northern Hemisphere. Whether you go for a day trip or overnight stay, just be sure it's unforgettable for all the right reasons. So, two words: Plan. Ahead.
Accessible only by ferry, the secluded island has no amenities available for purchase — no food, no water, no hats, no sunscreen, no sunglasses — so bring everything you need including all of the above as well as walking shoes, rain gear, a cooler and any bags you can carry comfortably. (And be prepared to take your trash with you when you leave.)
Upon arrival, however, you and your inner explorer will find more than 17 miles of secluded, undeveloped, white sandy beaches; wide marshes; abundant wildlife; hiking and biking trails through maritime forests; backcountry camping; cultural ruins; historic structures that natives, missionaries, slaves and wealthy industrialists once occupied; more than 9,800 acres of Congressionally designated wilderness and almost 36,000 National Park Service-protected acres.
Getting There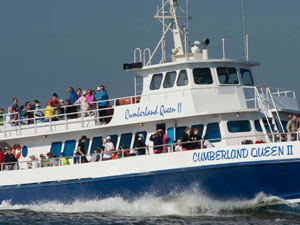 And getting there is half the fun. The Cumberland Island Ferry departs from the dock adjacent to the Cumberland Island National Seashore Visitor Center in Saint Marys, Georgia for a 45-minute trip to the island's Sea Camp dock. The ferry operates daily March 1 – November 30 and Thursday – Monday December 1 through February 28. Face coverings are required.
Tickets are available at cumberlandislandferry.com, and one-way tickets cost $17 for adults ages 16-61, $16 for seniors 62 and older, and $12 for ages 6-15. Children ages 5 and under ride for free. Be sure to book a return trip from Cumberland Island to St. Marys as well because there is no option to buy a round-trip ticket.
Reservations for the ferry are highly recommended, and they can be made up to six months in advance.
The national park entrance fee of $10 for adults 16 and older must be purchased separately. Camp fees and tour fees are separate as well.
The ferry sells ice, firewood, potato chips and drinks when it is docked at Sea Camp next to the Sea Camp Ranger Station. As the primary information and contact station on the island, the station has volunteers and rangers available throughout the day to provide assistance, information, recommendations and programming. The ranger station is open 8:30 a.m. – 4:30 p.m. daily. However, it may be unattended for periods during the day while the staff carries out its duties.
A 30-minute "Dockside" ranger program also is offered every day at 4 p.m., conveniently scheduled just before the final ferry departure to help ensure that no one misses the last boat off the island.
Exploring the Island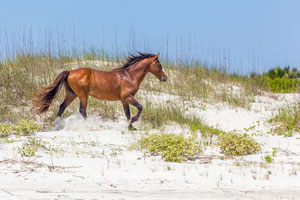 Because the island is more than 56 square miles, it's impossible to see it all in a single day. So, before setting out, especially for a day trip, it's imperative to prioritize the sights you want to see.
To see as much as possible, visitors can stay overnight at campsites or at the island's exclusive Greyfield Inn, which offers transportation to the island by its private ferry, the Lucy Ferguson.
Steeped in history, Cumberland Island once was a working plantation before it became a winter retreat for the wealthy Carnegie family. Now, it is home to descendants of slaves and aristocrats as well as to feral horses with bloodlines that trace back to the royal stables of the King of Arabia. The horses roam freely throughout the island, but sightings tend to be more plentiful on the south end and around the Historic District.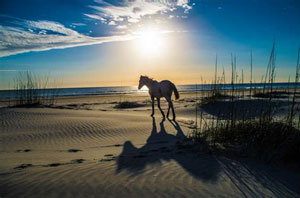 When you spot wild horses, remember to give them the right-of-way and to stay at least 50 feet away from them for your own safety. If a horse changes its behavior because of your presence, then you're too close. And never try to pet or feed them.
Other wildlife on the island ranges from threatened and endangered manatees and sea turtles to more than 300 species of birds. Visitors also may see wild turkeys, feral pigs, armadillos, vultures, coyotes, dolphins and lizards.
Whitetail deer, bobcats and otters can be found on the island as well. Since wildlife activity often is greater at dawn and dusk, overnight camping is recommended to see these animals.
Hikers have 50 miles of trails to explore as they hoof their way from maritime forests to pristine beaches.
Cyclists can bring their own bike to the island, but there is a $10 charge to transport it on the ferry. Overnight guests at Greyfield Inn also have access to bikes as part of their stay.
Taking a Tour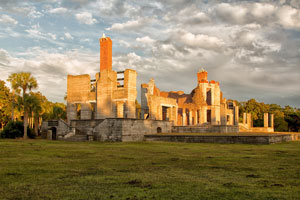 One of the best ways to explore Cumberland Island is by guided tour. The Land and Legacies Tours, which can be booked online at cumberlandislandferry.com, uncover centuries of history in just a few hours. This motorized tour, which costs $45 per person and begins at the Sea Camp dock, should be booked along with the ferry trip to the island.
This rugged, five- to six-hour tour is open only to visitors who take the 9 a.m. ferry or to campers who are staying on the island. Featuring cultural and natural sites, the tour travels through the wilderness from one landmark to another.
Highlights include the remains of Robert Stafford's plantation and cemetery, Plum Orchard Mansion, Cumberland Wharf, the Settlement and First African Baptist Church.
Built in 1898, Plum Orchard was the Carnegie family's 22,000-square-foot Georgian Revival mansion. The home has been maintained with period furnishings from the early 1900s.
Almost 8 miles from the Sea Camp dock, Plum Orchard also can be accessed by foot or bicycle. Free tours start on the hour and last about 45 minutes. The mansion is open whenever volunteer caretakers are onsite.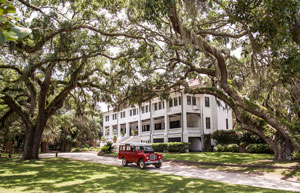 First African Baptist Church, located about 17 miles from the Sea Camp dock, was established in 1893 by African American residents of the island and rebuilt in the 1930s. This unassuming one-room church served as a free place of worship and community center for the north end community known as the Settlement. In addition, the church was the site of the secret September 1996 wedding of John F. Kennedy Jr. and Carolyn Bessette.
Due to its distance from the dock, day visitors should not attempt to visit the church unless they're part of the Lands and Legacies Tour. The church is not staffed, but the doors are open.
More glimpses of the Carnegie lifestyle can be seen at the Dungeness Ruins, located about 1.5 miles from the Sea Camp dock in the south end's Historic District, and the Greyfield Inn, which originally was built as a home for one of the Carnegie children.
First built in 1884, the Dungeness Mansion was intended as a winter home for Thomas Carnegie (younger brother and business partner of Andrew Carnegie); his wife, Lucy, and their nine children. The 59-room mansion caught fire in 1959, and only the brick and stone walls remain standing.
Although the mansion is in ruins, it is one of the most picturesque and visited spots on the island. Visitors can walk the grounds as well as the numerous support buildings that were part of the estate. Guided walking tours are offered when staffing permits.
Located next to the Dungeness dock, the Ice House Museum is open daily from 10 a.m. – 4 p.m. The original structure, featuring a ventilated roof and walls two feet thick with sawdust insulation, was built around 1900 to store large quantities of ice that were shipped to the island for the Carnegie Estate. Restored by the National Park Service, the building now serves as a small, self-guided museum.
Sleeping on It
For overnight stays, five campgrounds are available on Cumberland Island. Two of the campgrounds have designated campsites, and three are wilderness campsites. Campers must bring their own gear, and reservations are required. To make a reservation, visit recreation.gov and search for Cumberland Island National Seashore.
Built by the Carnegies in 1890, Greyfield Inn features furnishings and style that remain true to its history. The inn includes 15 rooms in the main house and two cottages. Cozy fireplaces and a breezy, shaded veranda make the inn an ideal travel destination year-round. The library, dinner bell and serve-yourself bar make guests feel at home.
If either of these overnight options are too extreme for your liking, then other accommodations are available in nearby St. Marys or Kingsland.
By Morgan Davis