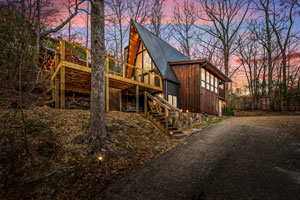 This A-frame Airbnb gets an A-plus for its cozy mountain vibe.
Evans residents Lizeidy Nieves and her husband, Juan Jimenez, are all about fun – not just for themselves, but for others as well. After all, they have made it part of their life work.
Avid travelers and engineers by training, they recently bought a cabin in Gatlinburg, Tennessee and turned it into an Airbnb.
"Before the pandemic, we traveled outside the United States. During the pandemic we started going to Gatlinburg and fell in love with the area," says Lizeidy, who also owns Lizeidy's Balloons & Events. "We first went for our wedding anniversary, and we drove around trying to see bears."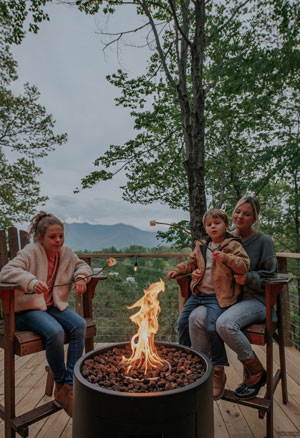 Moody, Mountain Ambiance
After repeat visits to the area, the couple, who likes to travel with their 7-year-old and 5-year-old sons, started looking for a cabin of their own. They bought the A-frame, which was built in 1959, in November 2022.
"We wanted one with an antique look, but modern amenities," Juan says.
They spent six weeks renovating the cabin, living there along with their contractors throughout the construction process.
Green was the predominate color inside when they bought the A-frame. For the remodel, however, they chose a black and brown color scheme to give the cabin a moody, mountain ambiance.
"We kept the historic appearance of it, but we modernized the colors," say Juan.
Renovations included enlarging the porch, expanding the kitchen, adding a coffee station, installing LVP flooring throughout the cabin and converting an existing space into a spa room.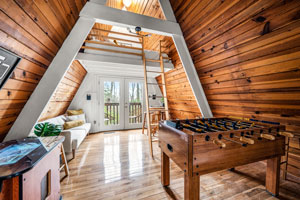 While the spa room originally was open, they enclosed it for privacy and added a shower and a Jacuzzi.
The three-bedroom, three-bath cabin also features tongue and groove ceilings and walls, exposed beams, a gas fireplace, fire pit, hot tub and outdoor lighting to add to the "moody vibe."
They even hung two swings in the main living area inside so people can use them year-round.
"We put the swings in the cabin for our kids, but we love them, too," Lizeidy says.
While the first floor includes a bedroom and the spa room, the second floor houses another bedroom, the living room, a fully equipped kitchen, dining area and access to the large outdoor porch. The third floor has a sitting area, loft/game room, bedroom and access to a small porch.
"Most A-frames are small," Lizeidy says, "but ours is big enough to have different living areas."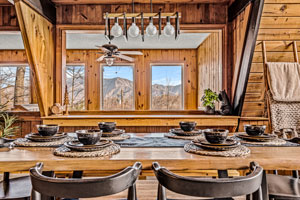 They named the cabin "Ohana," a Hawaiian word for "family," after they stayed at an Airbnb with the same name in New Zealand.
"We love to travel. We've been to Iceland, Germany, France, Italy, New Zealand and the Caribbean," says Lizeidy. "We love to create family bonds and memories and teach our children about different cultures. After traveling to so many places and trying different Airbnbs, we wanted to have one of our own."
Entertainment for All
The cabin offers plenty to see and do whether guests visit for entertainment or for R&R.
"It's cozy. It's family-oriented," says Lizeidy. "It's close to Gatlinburg and Pigeon Forge, but at the same time, you have privacy to enjoy the Smoky Mountains and to unplug and connect with your family."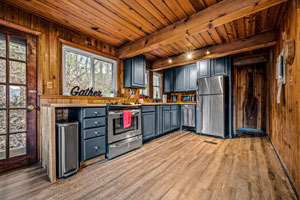 Those who are content to hang out at Ohana can savor the seclusion.
"We have a lot of throws and comfortable furniture and beds," says Lizeidy. "We want to make sure people feel cozy in every spot of the cabin."
They even have hard and soft pillows in each bedroom to satisfy their guests' preferences, and all of the bedrooms have TVs and Roku.
The loft includes an arcade machine with retro games like Pac-Man and Super Mario, foosball table, giant Connect 4 game on the wall, Legos and board games. The cabin also features three work stations for visitors who can't completely unplug.
With three outdoor sitting areas, the A-frame is the perfect place to start the day. "We love to go outside with our coffee and see the sunrise," Juan says.
The outdoor porch also is a good vantage point to spot bears along the mountain trails. In fact, Lizeidy and Juan saw a bear lumber past their cabin the first time they stayed there. (Just don't leave food on the porch or in your car. If you do, you might have a bear sighting that's a little too close for comfort.)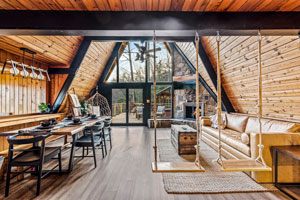 "The whole Airbnb experience has been a learning process," Juan says. "The way that you treat people and communicate with them is important."
For instance, they were greeted with snack-filled welcome baskets at Airbnbs in New Zealand and Italy, so they do the same for their guests.
The cabin can accommodate eight to 10 people, and guests have included families, couples, honeymooners, friend groups and college students on spring break.
"October is a good time to visit and see the fall leaves," says Juan.
When Lizeidy and Juan travel, they prefer to stay at Airbnbs because everyone has their own room and they can cook their own meals.
"You have more space in an Airbnb, and you experience more in the community than you do in a hotel," says Lizeidy. "You get to know the locals when you stay in an Airbnb."
They try to create an experience that makes their guests want to return.
"We want people to feel at home there, but at the same time, we want them to feel like they're getting away from everything," says Juan.
Clearly, Lizeidy and Juan, rated as Airbnb super hosts, are succeeding. In one of Ohana's many positive reviews, a guest writes, "This luxe cabin was a great blend of vacation and the feelings of home."
By Betsy Gilliland