While this Champions Retreat couple hosts their extended family for Thanksgiving every year, their house is filled with people year-round.
When Catherine and Emmanuel "Manny" Ngoh started making plans to build their custom home in Champions Retreat, where they have lived since 2015, they had three items atop their wish list.
"We wanted a media room. We wanted something Mediterranean, and we wanted an outdoor kitchen where we could entertain family and friends," says Catherine.
Although the Ngohs originally are from Cameroon, they have lived in the United States for about 26 years. "He came here for school, and I came here to join him," Catherine says.
Manny, an endodontist, attended college in Atlanta and the Medical College of Georgia, and most of their relatives now live in the Atlanta area.
While the parents of three grown sons are empty nesters, their home is hardly empty. Just about any occasion calls for filling it with people they love, and Thanksgiving is no exception. Typically, they host about 25 people for the holiday.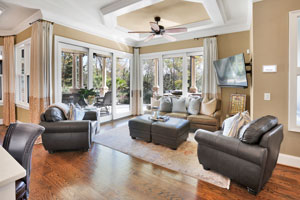 A Matter of Scale
With 16-foot ceilings, windows that stretch from floor to ceiling and oversized accessories, their home is a reflection of their generous spirit and big-hearted personalities.
"Everything had to be big to match the height of the ceilings," says Catherine. "Otherwise, it would get lost."
Two tall white columns with a marble look separate the two-story foyer from the living room, which is accented by a coffered ceiling and a raised hearth marble fireplace.
The wall behind the fireplace has a stone look, and a TV with a curved screen is situated above it. A trio of large blue pillar candlesticks, which hold white candles, rest on the hearth.
Furnishings include a pair of white octagonal tables, a striped couch, an ottoman and an oval-shaped glass coffee table. Three velvet pillows from Italy line the couch, and they have different fabric on each side.
A pair of blue chairs sits in front of the two-story bay windows that are accented with custom-made, fire-retardant, gold-colored silk window treatments. Catherine got the silk fabric from Scalamandré, a New York company that develops custom textiles.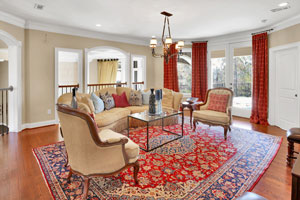 Founded in 1929, the company has been commissioned to weave fabrics for some of America's most famous homes including San Simeon, Monticello and the White House.
Catherine likes to change the décor, switching out pillows and changing curtains to match. While Scalamandré is one of her favorites, so is the view from the living room.
"I really love the glass windows," she says. "Sometimes we see golfers on the course."
The living room overlooks the ninth hole of the Creek Course at Champions Retreat, where this family of avid golfers spends lots of time.
Oversized vases and planters in the living room are filled with flowers and greenery, and an arched pass-through opening above built-ins in the space connects it with the dining area.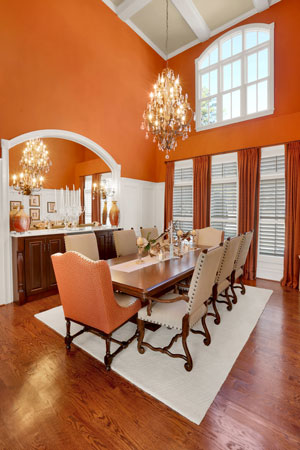 Conversation Area
The dining area features an octagonal trey ceiling, hardwood flooring that extends throughout the first story, built-in cabinets with an old world finish, four studded upholstered chairs at a round table and a chandelier above the table.
"We use this area when we entertain," Catherine says. "It's a conversation area when I'm in the kitchen."
She loves to cook, so naturally, the kitchen is one of her favorite spots in the house.
"I like the kitchen because I get to cook my favorite meals for my family," Catherine says. "That's the area where we can sit down together."
The spacious kitchen includes two islands. A chandelier hangs from a six-sided trey ceiling inset that matches the shape of one island.
"If we had done a square island, it would have looked smaller," Catherine says. "This gives us more space and more storage. It has a unique shape."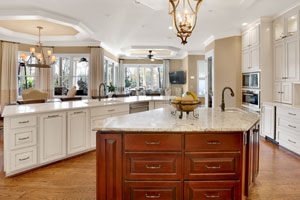 A farmhouse sink is nestled in the other island, where five studded leather stools offer extra seating.
Other kitchen features include a wine cellar with a glass door, granite countertops, tile backsplash, diamond-shaped tiles in the backsplash inset above the stove, pot filler, wood stove hood with a stone-look finish, appliance garage and lots of drawers and cabinets for storage.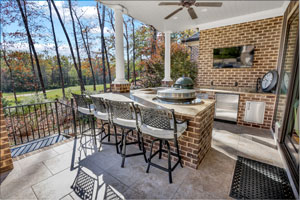 The Ngohs also spend a lot of time in the adjoining keeping room, which features leather furnishings, a six-sided trey ceiling, a TV and sliding glass doors to the covered back porch.
In the formal dining room, rust-colored walls and window treatments offer a warm contrast to the cream-colored wainscoting. Studded, upholstered chairs surround the table.
The dining room also features a two-story coffered ceiling and a built-in sideboard beneath an arched mirror. Two oversized vases anchor each end of the sideboard, and four African pictures hang on the opposite wall.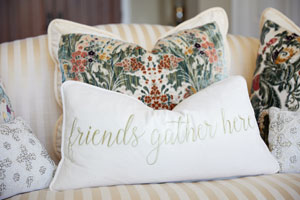 Casual Entertaining
While the Ngohs have plenty of space for formal entertaining, they also have ample room for casual get-togethers.
For instance, their media room features two rows of leather seats, skylights in the black ceiling and a golf simulator.
"Manny did most of the design for the media room, where he likes to read or work on his golf game," says Catherine. "I did most of the rest of the house."
The upstairs billiards room overlooks the living room. While there's no pool table in the room, they use the space, which features a curved, wrought-iron balcony railing, as a sitting area.
For their overnight – or longer – company, the guest bedroom features a king-size, four-poster bed. Although the bed and bedside tables are made of mahogany, the Ngohs updated them with a coat of white paint for a more modern look.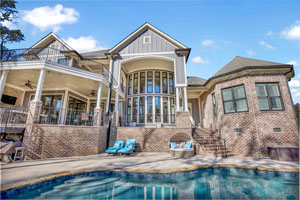 Double doors lead to another guest room, which features a built-in desk with bookshelves and a trey ceiling. Designed as a study, the space was converted into a spare bedroom.
The master suite is another one of Catherine's favorite spots in the house. The room features an octagonal trey ceiling, bay window in the sitting area, custom-made silk window treatments, built-in drawers with a TV nook and shelves, a small refrigerator, a leather bench with carved wood legs at the foot of the bed and a door to the outside porch.
They often eat dinner on the porch at the tile table with wicker chairs and take advantage of the outdoor kitchen amenities. They include an Evo grill, Big Green Egg, refrigerator, granite countertops and cooktop with lid.
The porch also features a TV, ceiling fans, Edison lights, recessed lighting, heaters and tile flooring.
A stone fire pit and palm trees outside the wrought iron fencing around the pool, which features a stone waterfall and diving board, add to the ambiance of the outdoor living space.
"We like to use the pool in the summer, and we like to have friends use it as well," Catherine says.
Whether the Ngohs are hosting family get-togethers, Christmas parties, Bible studies or other faith-based gatherings, they're most content when they're entertaining company.
"We just like having people here," Catherine says. "We like it when people are happy. Fellowship is a good thing."
By Betsy Gilliland